January 26, 2022 at 9:56 AM
The Spanish Council of Ministers approved on Tuesday the revaluation of pensions for the year 2022.
This represents a rise of 2.5% for Contributory pensions and for State Passive Class pensions and an increase of 3% for minimum and non-contributory pensions, including the Minimum Vital Income (IMV).
Likewise, a compensatory payment (la paguilla) has been approved for pensioners for the inflation deviation that occurred last year.
The Minister of Inclusion, Social Security and Migration, José Luis Escrivá, explained that the Government allocates 6,500 million euros to this revaluation and that 11.5 million pensioners will benefit "who will be able to maintain their purchasing power." The pension increase takes effect from 1 January 2022.
According to a government statement, the 2.5% increase approved for contributory pensions in 2022 corresponds to the average inflation of the last twelve months until November 2021.
Compensatory payment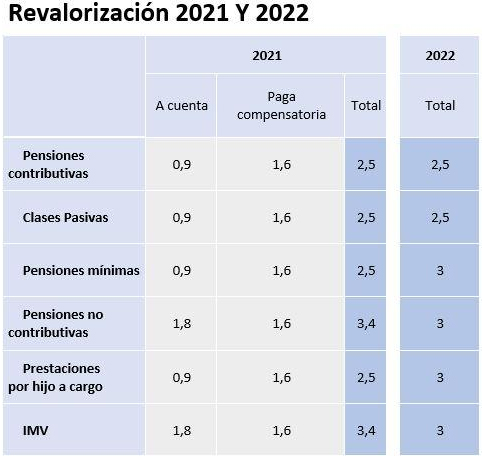 Source: Ministry of Inclusion, Social Security and Migration.
For its part, the compensatory payment has been approved because inflation, between January and November 2021, it exceeded the projection with which pensions were revalued in that year (0.9% was projected and inflation was 2.5%).
Minister Escriva stated that the new pension framework offers "absolute certainty" to pensioners and guarantees their purchasing power "indefinitely and at all times" compared to the previous system "which emphasized cuts and austerity."