September 26, 2022 at 9:18 AM
The Spanish Social Security institution recorded 2,419,877 foreign affiliates in August after discounting seasonality and the calendar effect. This is 41,440 more workers than the previous month and brings the year-to-date increase to 113,000.
If February 2020 - the month before the full impact of the Covid-19 pandemic - is taken as the reference, the system shows an increase of 230,000 foreign workers.
The figure in August represents 12.1% of the total affiliates, in seasonally adjusted terms.
In average and non-seasonally adjusted terms, the Social Security had 2,437,491 foreign contributors in July, of whom 834,461 were from European Union (EU) countries (34.2%) and 1,603,030 from third countries (the remaining 65.8%). This is 14,001 less than in the previous month.
A total of 55.8% were men (1,358,729) and 44.2% women (1,078,762).
The largest groups of foreign workers came from Romania (330,155), Morocco (277,937), Italy (163,819), Colombia (123,850) and Venezuela (119,235).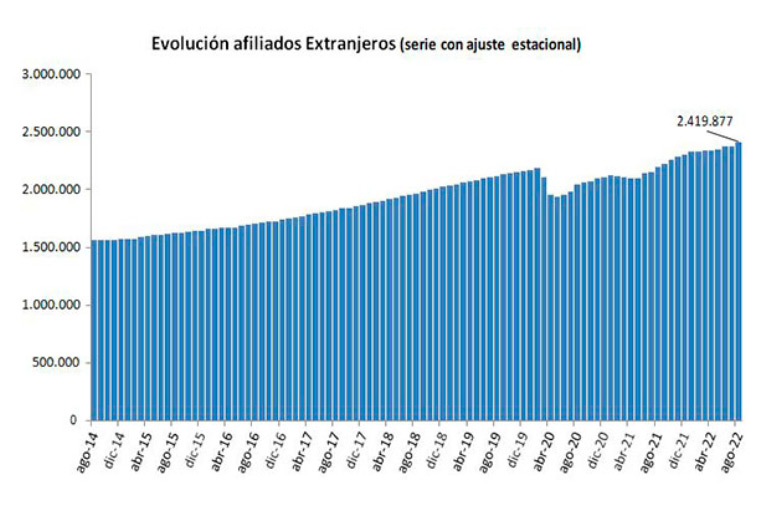 More than 60,000 Ukrainian
In addition, and among the various nationalities, there are 60,469 affiliates from Ukraine. Their numbers have been growing steadily since the beginning of the Russian invasion. This is 12,891 more than in February, the month before the impact of the war.
The majority of contributors from Ukraine working in Spain (around 70%), are covered by the General Regime, meaning that they are salaried workers, and 9% are self-employed.
The majority of foreigners, a total of 2,032,319, or 83.3%, contribute to the General Regime.
The self-employment regime has 399,520 foreign affiliates. Of the total number of self-employed foreign workers, 15.4% are Chinese, followed by those from Romania (11.1%) and Italy (8.9%).
In terms of activity sectors, increases in Household activities (5.4%), Energy supply (3.1%), Health care activities (1.6%), Water supply (1.6%) and Recreational activities (1.4%) stand out. The sharpest decreases were recorded in education (-10.7%) and agriculture (-6%).