December 15, 2021 at 7:39 PM
Spanish contributory pensions will rise by 2.5% in 2022, following the formula agreed with the social agents (unions and business associations) in July. According to the government, this increase "guarantees the purchasing power of pensioners."
As explained by the Ministry of Inclusion, Social Security and Migration in a statement, the increase for 2022 is the result of the average consumer price index (CPI) results between December 2020 and November 2021. The final inflation data for November 2021 (5.5%) was published today by the Spanish statistical office (INE).
The increase that will be applied in 2022 will be greater, of 3%, for recipients of minimum pensions, non-contributory pensions and Minimum Vital Income (the guaranteed income for the family unit made up of an adult will be 5,899.6 euros).
According to data from the Ministry, in November 2021 there were 8.9 million recipients of contributory pensions (which include retirement, permanent disability and death - widowhood, orphanhood and in favor of relatives -) and 9.9 million pensions.
With this revaluation, in 2022 the minimum retirement pension in Spain will be 10,103.8 euros per year in the single-family case (compared to 9,808.4 in 2021, once revalued with the CPI with the final data) and up to 12,467 with a dependent spouse (in 2021, it was 12,103).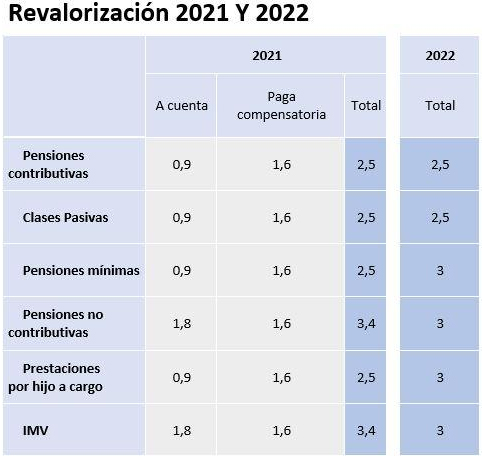 Source: Ministry of Inclusion, Social Security and Migration.
Maximum pension
Meanwhile, the maximum retirement pension reaches 39,468.66 euros per year, 962.78 euros more than in 2021 (38,505.88).
In addition, in the second half of January, pensioners and beneficiaries of the Minimum Vital Income will receive a compensatory pay for the revaluation of 2021, which was lower than the CPI registered this year.