October 2, 2021 at 10:14 AM
Retail sales in the whole of Spain fell by an average of -0.1% in August (-0.9%, once adjusted for seasonal and calendar effects), according to data published by the Spanish statistical office (INE).
However, the INE data show an uneven evolution in the different regions of the country.
The partial recovery of the tourism sector may be among the causes of the positive development registered in the capital and in the main coastal destinations.
The data show that the retail sector improved its sales in the 6 autonomous communities (regions) with the highest influx of tourists, including the archipelagos of the Balearic Islands (7.3%) and the Canary Islands (0.3%), but decreased in another 11 regions.
Asturias, País Vasco (both with −5.5%) and La Rioja, Navarra and Castilla y León (−5.0%) registered the greatest decreases.
In turn, Balearic Islands (7.3%), Valencian Community and Catalonia registered the greatest increases. Madrid shows a 0.6% increase in sales.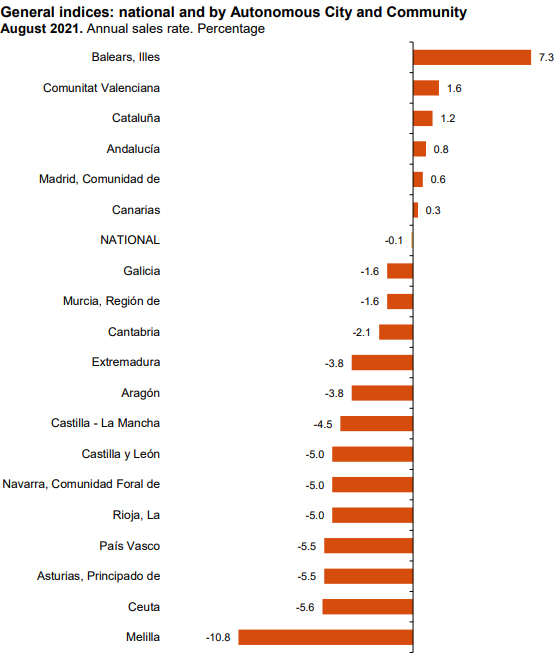 Source: INE.
Employment in the retail sector
In August, employment in the retail sector increased throughout Spain by 1.8% compared to the same month in 2020.
Employment increased in 15 autonomous communities in annual rate.
The Balearic Islands registered the highest increase (3.5%), followed by the Valencian Community (3.2%).