October 8, 2021 at 8:44 AM
The creation of new companies in Spain far exceeds the number of companies that go bankrupt or are dissolved. Even in August, the holiday month par excellence for Spaniards, when activity fell in the main economic centers, almost 5 companies were set up for each one that was dissolved.
According to data from the Spanish statistical office (INE), 6,309 mercantile companies were created in August, 9.7% more than in the same month of 2020.
The capital subscribed for their constitution exceeds 365 million euros, with an annual increase 18.2%. The average capital subscribed (57,939 euros) grew by 7.8%.
On the other hand, the number of mercantile companies dissolved in August was 1,274, which was 13.4% more than in the same month of 2020. Of these, 81.9% did so voluntarily, 9.0% by merger and the remaining 9.1% for other reasons.
Regarding the main branches of activity, 20.9% of the mercantile companies created in August correspond to commerce and 17.1% to real estate, financial and insurance activities. As for the dissolved ones, 20.5% were in the commerce sector and 17.0% in construction.
By activity and region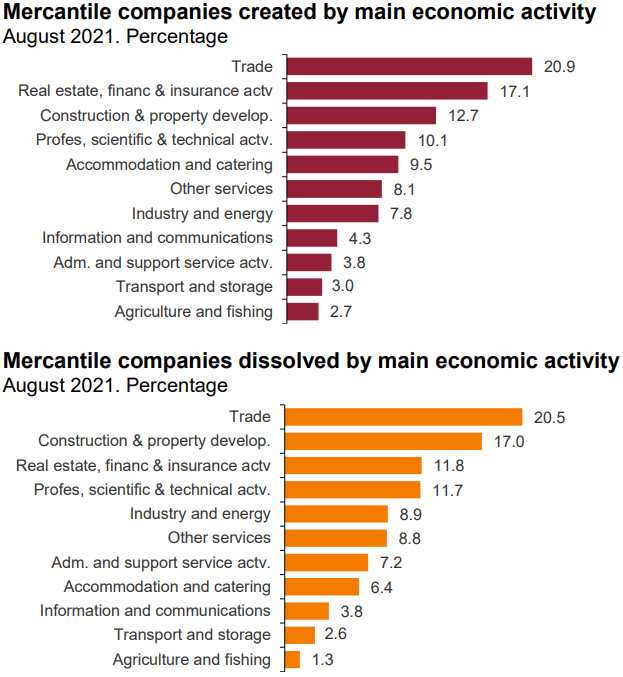 Source: INE.
The activity with the highest subscribed capital is real estate, finance and insurance, with 235.26 million euros. For its part, administrative activities and auxiliary services shows the lowest capital, with 2.13 million.
The regions with the largest number of mercantile companies created in August are Madrid (1,419), Catalonia (1,343) and Andalusia (963).
On the contrary, the ones that have created the fewest companies are La Rioja (40), Cantabria (45) and Asturias and Navarra (both with 65).