Finnish Government intends to temporarily raise the exempt amount of the adjusted unemployment benefit. In addition, the Government wants to ease the requirements so that unemployed job seekers can receive commuting and relocation allowances.
With those goals in mind, the Ministry of Social Affairs and Health proposed on Wednesday to amend the law on temporary exemptions from the Unemployment Security Act due to the coronavirus (koronavirus, in Finnish) epidemic.
The aim of these amendment is to provide financial support and security to unemployed people when they take part-time or other short-time jobs in a situation where full-time work may not be available. And at the same time, help people find full-time or seasonal work in critical sectors like agriculture.
According to the Government's plan, the amendment would enter into force as soon as possible and remain in force until 31 October 2020.
Exempt amount raised
The exempt amount means the amount of money that unemployed jobseekers can earn without an effect on their unemployment benefit. In other words, without seeing their monthly state payments cut.
The Government proposes that this exempt amount be raised temporarily from the current 300 euros to 500 euros per month (or, correspondingly, from the current 279 euros to 465 euros per four calendar weeks).
Those would be, in practice, the maximum amounts that unemployed jobseekers could earn doing part-time or short-time jobs without losing any of their unemployment benefits.
The raised exempt amount will also apply to income earned by self-employed people. Moreover, the amendment will apply to unemployed jobseekers who already receive adjusted unemployment benefit.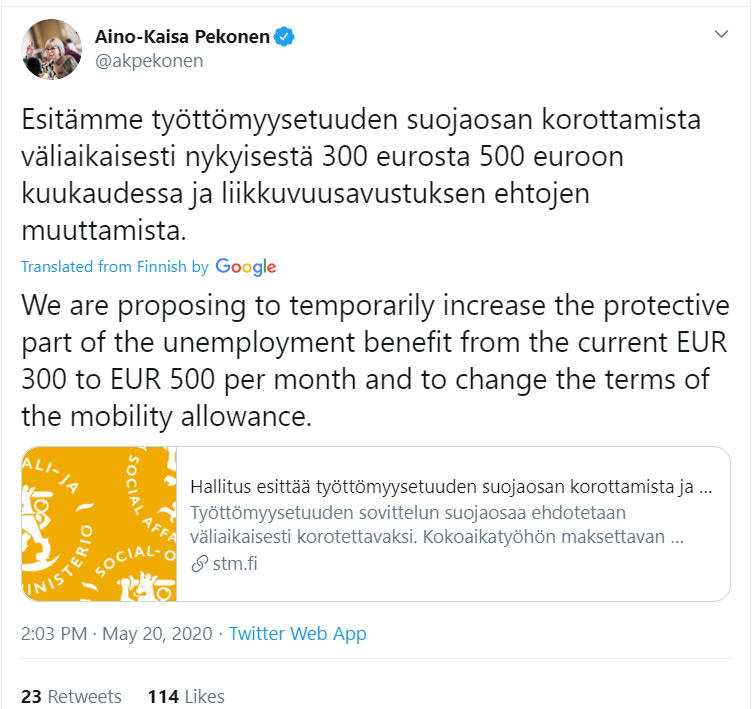 Minister Aino-Kaisa Pekonen also announced the amendment in Twitter.
Commuting and relocation allowance
In addition, the Ministry said eligibility for commuting and relocation allowance for full-time work will be also temporarily amended to decrease the distance required for daily commuting.
The Government wants that the commuting and relocation allowance is available to persons whose daily commute at the start of employment takes at least two hours instead of the three hours currently required.
The allowance could also be paid to persons who move because of a job a distance comparable to the daily commuting requirement.
IThe aim is to increase regional mobility to help people find full-time work. The amendment applies to both seasonal work in agricultural and horticultural enterprises and other full-time work.