November 24, 2021 at 7:50 PM
Helsinki police warn that more and more foreign taxi drivers have been suspected of sexual assaults in Finland in recent years.
The last case happened late in the night of Saturday 20 November, after the taxi driver had transported the client to her home, according to a police statement.
According to police information, the preliminary investigation of the case revealed that, after the trip, the taxi driver followed the woman to her apartment without her permission.
The complainant asked him to leave the home and she went to sleep. When she woke up shortly thereafter, she found that she was being raped by the suspect.
The police have been able to find out the identity of the suspect from the information extracted from the taxi app.
The police have warned in their statement that the number of alleged sexual crimes perpetrated by taxi drivers has increased considerably since the summer of 2018.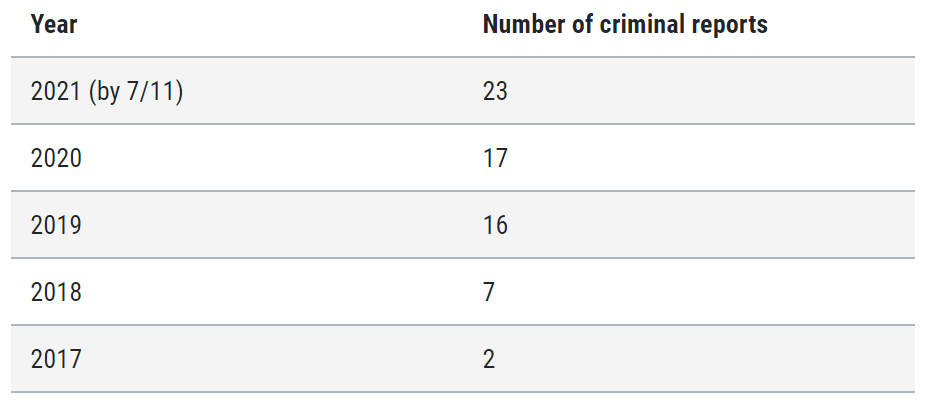 The table shows the number of alleged sex crimes during a taxi ride and in which the suspect is a taxi driver. Image and data: Helsinki Police.
Origin of the suspects
Police say alleged sex crimes are usually committed in a taxi on the way to the client's home. The suspects for the crimes have been men who assaulted women. In some cases, they offer victims a free ride home.
The police explained that between 2019 and 2021, the taxi drivers suspected of having committed sexual crimes came mainly from the Middle East, South Asia and East and West Africa. Only in one case the suspect was from Finland, the statement read.
Despite these worrying data, the police emphasize that most taxi rides in Finland are safe.
Even so, not all crimes committed are reported to the authorities, emphasizes Inspector Jari Koski.