November 14, 2019 at 9:40 PM
In Finland, marriage figures have been steadily falling during the last decade, but this declining trend strengthened in 2018.
According to Statistics Finland, in recent years this decrease in the marriage rate was slowed down by remarriages. But last year even remarriages decreased and that caused that the total marriage rate fell more steeply than before.
The decrease in the marriage rate in the entire country was also visible as a decrease in international marriages. The figures published by the statistical office show that 7% of women of Finnish background living permanently in Finland married men of foreign background in 2018.
Surprisingly, one year earlier the share was slightly higher (7.5%). This drop is surprising because generally, the share of international marriages of all marriages entered into by women of Finnish background has, however, increased gradually. In 1990 to 2000, the above-mentioned share was around 4% to 5%.
But the year-on-year decline is much more pronounced in marriages between Finnish-born men and women with foreign background. According to Statistics Finland, in this case the share of marriages decreased from 7.1% to 5.9% in 2018.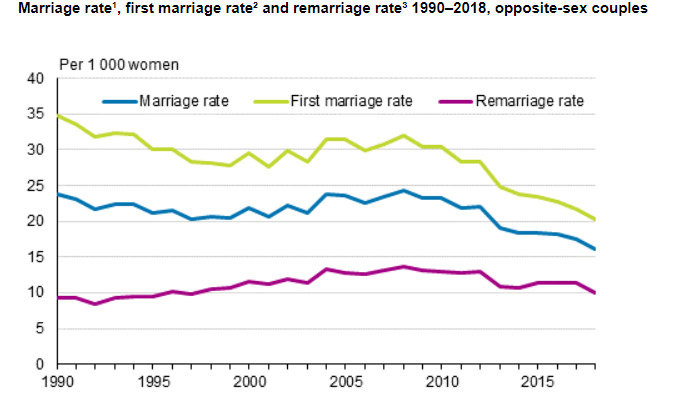 Source: Statistics Finland
More widows than divorced
For all Finnish women (no matter if married to locals or foreigners), the share of first marriages in all marriages contracted in the country was 75% in 2018. And the probability that a woman's first marriage ends in divorce was 37%, which is one percentage point lower than in 2017. An interesting fact is that a first marriage ending in widowhood "is slightly more probable than the marriage ending in divorce", said Statistics Finland.
The overall picture, is that since the 1990s, the divorce rates by the duration of the marriage are very similar and are thus not dependent on the year in which the marriage was entered into. For example, of the marriages entered into in 1990 to 2008, one-fifth had ended in divorce by the ninth year.
However, in recent years there has been some indication that the divorce rate during the early years of marriage might be decreasing slightly. For example, 4.7% of the marriages entered into in 2014 ended in divorce in the third year of marriage, while the share for marriages entered into in 2016 was 4%.
Correspondingly, 1.7% of marriages entered into in 2014 ended in divorce in the second year of marriage and 1.3% of marriages entered into in 2017. This 0.4 percentage point change seems small but with low absolute numbers it is high in relative terms, 24%.