January 14, 2020 at 9:40 PM
In Finland, the average length of a hospital stay for in-patients is 7.8 days, according to the latest data published by the statistical office of the European Union.
Eurostat's Hospital discharges and length of stay statistics provides comparative data on the evolution of the length of hospital stays in the different countries of the EU.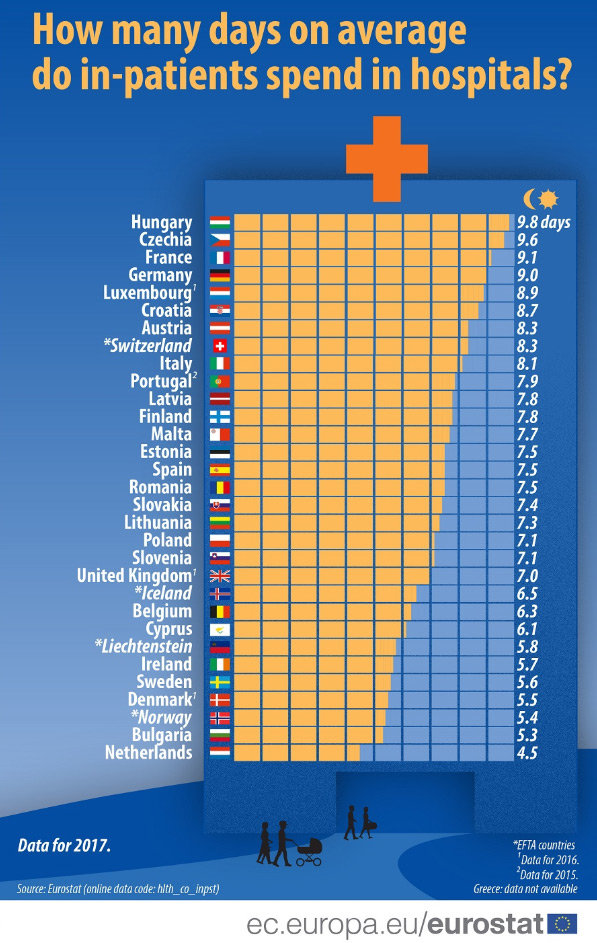 The latest published data shows that in Finland there has been recently a significant reduction in hospital stay time. If in 2015 a patient remained on average 9.2 days hospitalized, the number of days decreased to 8.6 in 2016 and to 7.8 days in 2017.
The above mentioned figures imply a reduction of more than 15% in just two years (see the table below).
In the rest of Europe, only Croatia and Malta show cuts comparable to that of Finland in the duration of hospitalization. And still they are not so intense.
Eurostat does not explain the reasons for this evolution. However, some experts consulted by Foreigner.fi explained that it may be due to factors such as the duration of women's hospitalization after birth, which is shorter in Finland.On average, first-time mothers are discharged 2-3 days after delivery. But those who have given birth before may be discharged the next day or even in 6 hours after delivery if their condition allows.
Patients pay 48.90 euros per day of hospitalization
There is also among the doctors the assumption that people may recover better at their homes, since patients in hospitals are subject to threats such as hospital infections.
It should be also noted that in Finland -also unlike many EU countries- hospital patients have to pay a fee for each day of stay, even if they are treated at public health centers. The cost for patients in 2020-2021 is 48.90 euros per day of hospitalization, according to the Ministry of Social Affairs and Health.
In 2017 among the EU Member States, the average length of a hospital stay for in-patients ranged from 4.5 days in the Netherlands, 5.3 days in Bulgaria and 5.5 days (2016 data) in Denmark to 9.1 days in France, 9.6 days in Czechia and 9.8 days in Hungary.
Click on the table image to enlarge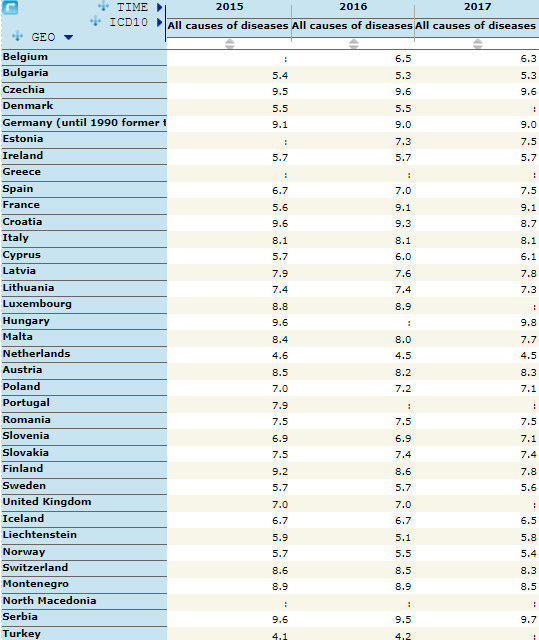 Source: Eurostat.
Although there were more female patients than male patients, the average length of stay for male patients was generally longer in most Member States, says Eurostat.