February 6, 2020 at 1:13 PM
Statistics Finland has released its latest quarterly figures on rents of dwellings, which are based on data from private rental housing companies and the Social Insurance Institution (Kela) aid register.
According to those numbers, Vantaa (+7.8%), Turku (+7.4%) and Tampere (6.9%) are the large towns where rents of non-subsidized dwellings increased most in the last quarter of 2019 compared to 2015.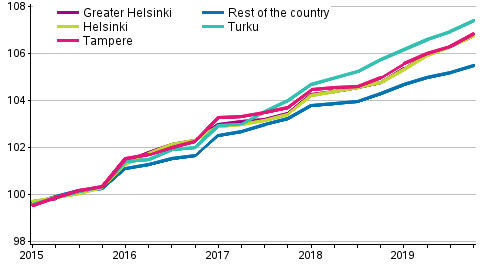 Source: Statistics Finland.
In regional centres, rents have risen over the same period most in Mikkeli, Rovaniemi and Kuopio.
In Greater Helsinki, rents have risen by 6.8% and in the rest of the country by 5.5% from 2015.
The average rent level of non-subsidized rental dwellings is still highest in Helsinki (21 euros per m²). In new tenancies signed in the last six months, the average price of a rented square meter was 22.7 euros per m² in Helsinki, 15.9 euros per m² in Tampere, and 15.3 euros per m² in Turku.
Source: Statistics Finland.
Compared to the year 2015 rents have risen almost everywhere, but the annual increase in rents has slowed down in recent years across the country.