The unemployment rate in Finland continues to rise in 2021 and reached 9% in April.
According to the latest Labor Force Survey produced by Statistics Finland, there were 244,000 unemployed in April, which was 30,000 more than one year earlier.
The number of unemployed men was 138,000 and that of women 106,000.
The unemployment rate stood at 9%, having been 8% one year earlier.
From last year's April, men's unemployment rate rose by 1 percentage points to 9.7% and women's by 0.8 percentage points to 8.2%.
The unemployment rate for young people aged 15 to 24 stood at 25.7%, which was 0.7 percentage points more than in April 2020.
The employment rate , that is, the proportion of the employed among persons aged 15 to 64, stood at 70.1 per cent, having been 69.6 per cent one year earlier.
This is still a long way from the 75% target set in the government program by the cabinet led by Prime Minister Sanna Marin.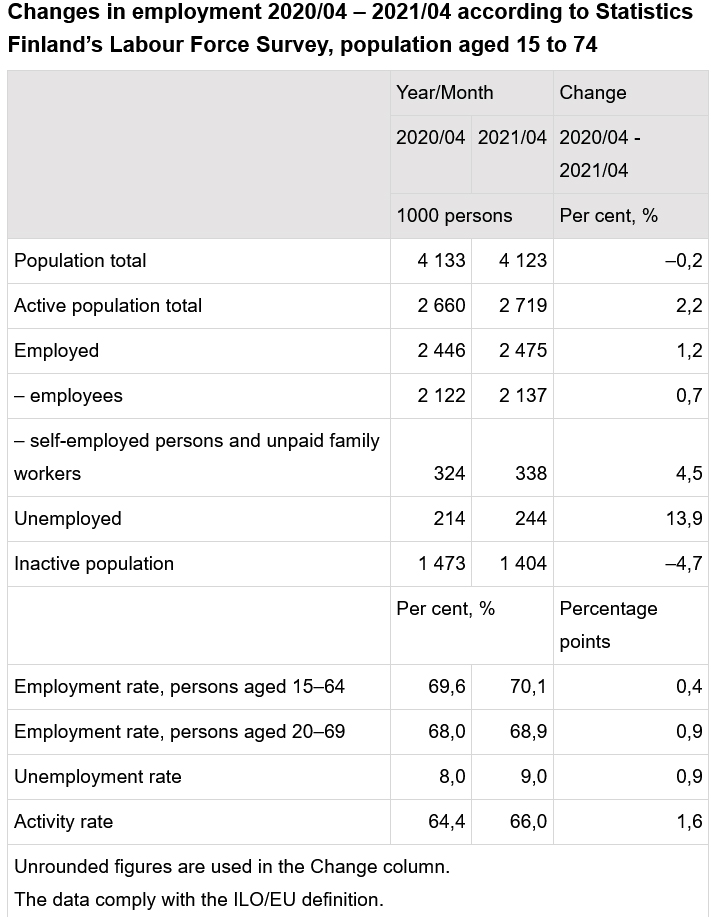 Source: Statistics Finland.
Decline in the inactive population
The number of employed also increased in April year-on-year, although less than that of unemployed. According to Statistics Finland, the number of employed people was 2,475,000, which was 29,000 more than a year earlier.
From last year's April, the employment rate of men rose by 0.6 percentage points to 70.6% and that of women by 0.3 percentage points to 69.5%.
The simultaneous increase in unemployment and employment is not contradictory, it can be explained by the sharp decrease in the inactive population.
There were 1,404,000 people in the inactive population in April 2021, which was 69,000 fewer than one year earlier.
This means in April 2021 there were many more people in a situation of activity - working or looking for work - than a year before, during the hardest stage of the first wave of the Covid-19 pandemic.
The year-on-year activity rate increased 1.6 percentage points to 66%.