January 18, 2021 at 10:19 AM
According to Statistics Finland, the working day adjusted turnover of construction enterprises decreased by 1.5% year-on-year in November. The volume of sales, from which the impact of prices has been eliminated, decreased by 1.3%.
Among construction industries, turnover and sales volume in the industries of building construction and specialized construction activities fell compared to one year ago.
The working day adjusted turnover in building construction fell by 6% and sales volume by 6.5% compared with the year before.
The working day adjusted turnover of specialized construction activities decreased by 0.2% and the sales volume by 0.8%.
Civil engineering was the only construction sector that recorded growth both in turnover (12.1%) and sales (13.8%) year-over-year.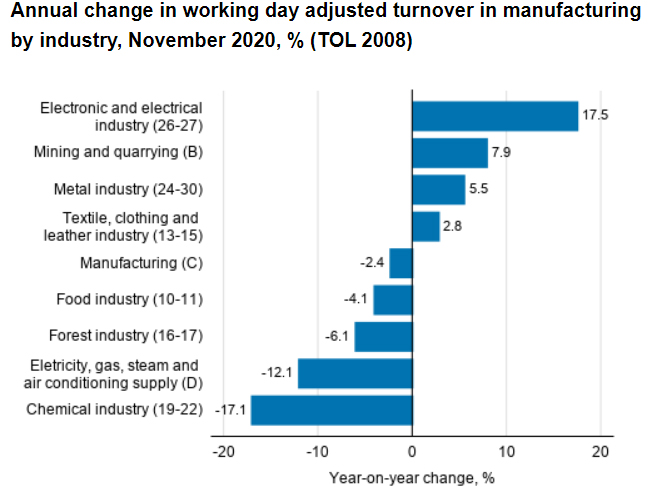 Source: Statistics Finland.
Decline in industry
On the other hand, working day adjusted turnover in industry declined in November by 1.6% year-on-year.
Among the main industries, turnover decreased most in the chemical industry, where it was 17.1% lower than one year earlier.
The turnover of electricity, gas, steam and air conditioning supply declined in November by 12.1% per cent and that of the forest industry by 6.1%.
In the food industry, turnover was 4.1% lower than one year previously.
The growth in turnover was strongest in the electrical and electronics industry, where it amounted to 17.5% from one year ago. In mining and quarrying, turnover grew by 7.9% and in the metal industry by 5.5%.
The turnover of the textile, clothing and leather industry was 2.8% bigger than one year ago.
Compared with the previous month (October), seasonally adjusted turnover in industry grew by 1.7%.