August 12, 2021 at 2:01 PM
Revenue and sales volume increased significantly in June in all Finnish trade industries, especially in the motor vehicle business and in the wholesale trade.
According to Statistics Finland, turnover in total trade adjusted for working days grew in June by 10.8% from June 2020. Over the same period, the working day adjusted volume of sales in total trade, from which the impact of prices has been eliminated, increased by 5.4%.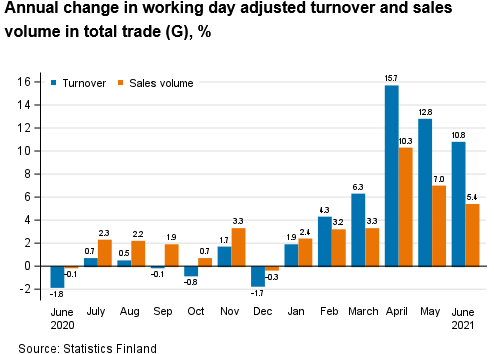 The positive development that started in January also continued in June and turnover grew strongly especially in the industries of motor vehicle trade and wholesale trade. The improvement of trade industries is partly due to the exceptional situation caused one year earlier by the Covid-19 pandemic, which sank trade in many industries.
Among the industries of trade, motor vehicle trade grew most. Turnover rose in June by as much as 17.6% and sales volume by 15.6% from one year back.
The positive development in the biggest industry in trade, wholesale trade, which started in February, also continued in June. Turnover grew by 12.2% and sales volume by 3.5% year-on-year.
"The more favourable development in turnover than in sales volume in wholesale trade is explained by risen prices especially of processed petroleum products," says Statistics Finland in a press release.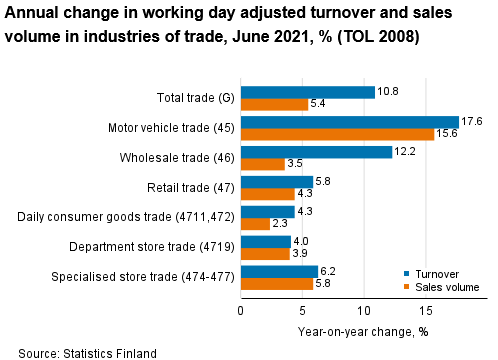 Retail trade
In retail trade, working day adjusted turnover grew in June by 5.8% and sales volume by 4.3%.
Among retail trade industries, specialised store trade grew clearly fastest, as turnover went up by 6.2% and sales volume by 5.8%.
Turnover in daily consumer goods trade rose by 4.3% and sales volume by 2.3% from June 2020.
Turnover in department store trade grew by 4% and sales volume by 3.9% year-on-year.
Seasonally adjusted turnover in total trade grew by 2.1% per cent in June compared to May. Seasonally adjusted sales volume grew by 1.2% during the same period. In May, turnover and sales volume both remained almost on level with the previous month.