June 16, 2021 at 11:32 AM
April was a good month for all Finnish trade industries, which since the beginning of the year continue to increase their turnover and sales volume while the pandemic recedes.
According to Statistics Finland's data, turnover in total trade adjusted for working days grew by 16.9% from April 2020. Over the same period, the working day adjusted volume of sales in total trade, from which the impact of prices has been eliminated, increased by 11.4%.
The positive development in total trade that started in January of the current year also continues in April. The development of trade industries was partly affected by the exceptionally weak growth one year ago caused by the Covid-19 pandemic.
This is now visible as high growth figures for some trade industries.
Adjusted for working days, turnover and sales volume increased in all industries of trade in April.
Car sales
Among the industries of trade, motor vehicle trade grew most. Car sales have developed rapidly throughout the early part of the year. In April turnover in motor vehicle trade rose by as much as 46.2% and sales volume by 43.2% from one year back. For example passenger car sales increased by 48% in April year-on-year and 95% in May.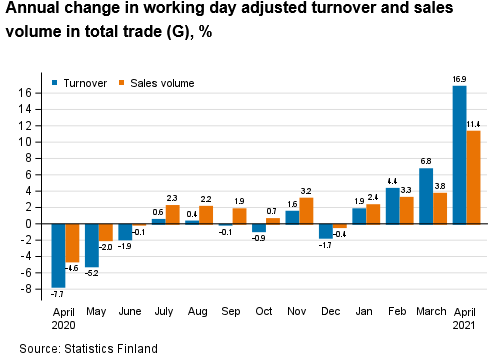 The growth in motor vehicle sales was considerably affected by the weak development one year ago caused by the coronavirus outbreak.
The positive development in the biggest industry in trade, wholesale trade, which started in February, also continued in April. Turnover grew by 13.3% and sales volume by 5% year-on-year.
The more favourable development in turnover than in sales volume in wholesale trade is explained by risen prices especially of processed petroleum products.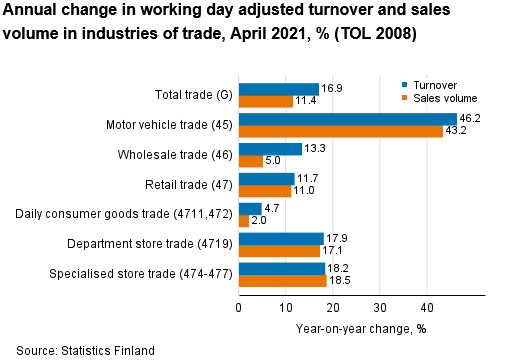 Retail trade
In retail trade, working day adjusted turnover grew in April in total by 11.7% and sales volume by 11%.
The biggest growth among retail trade industries was seen in department store trade and specialized store trade. Turnover in department store trade rose by 17.9% and sales volume by 17.1%.
In specialized store trade, turnover increased by 18.2% and sales volume by 18.5% from April 2020.
Among retail trade industries, the development was weakest in daily consumer goods trade, where turnover rose by 4.7% and sales volume by 2% from a year ago.
Seasonally adjusted turnover in total trade grew by 1% in April compared to March. Sales volume grew by 0.9% during the same period.
In March, turnover rose by 1.2% and sales volume by 0.4% from the month before.