December 4, 2018 at 12:48 AM
Vu Thi Thuy is a twenty four-year-old International Business student in Helsinki at the Haaga-Helia University of Applied Sciences. She arrived in Finland from Vietnam in August 2014 and now, after four years in the country, she is about to be expelled because the Finnish Immigration authorities no longer believe she is a student.
The truth is that Thuy's studies have not gone as they should. As she admits, she has not been able to complete all the credits required to renew her residence permit. But this is not just a story of a bad student, behind her case there is also poverty, depression and mental imbalances that –she insists- prevented her from fulfilling her academic obligations.
To understand Thuy's case we have to go back to 2013, when she was studying Translation and Interpreting at the Vietnamese National University in Hanoi. One day she was sitting and talking with another girl, dreaming like many Vietnamese youngsters do with travelling and look for new opportunities abroad.
Searching at Internet forums, she learned about Finland and fell in love with a picture of a Finnish lake. "It was so amazing", she says, that after doing some research about the country and its study programmes for foreigners she submitted an application for a place at Kajaani University of Applied Sciences. She succeeded, then she got the residence permit, passed the admission exam, and finally entered the institution in August 2014.
Upon her arrival, the process of adapting to her new life in Kajaani was complicated. "I came from Vietnam, which is a very populated country and I was shocked because there was almost nothing there, very few activity", she explains.
Even so, she completed the first academic year. But then she thought it would be a good idea to apply for studying the following year the same at Haaga-Helia University, in the bigger and less quiet city of Helsinki. She again passed the admission exam and moved to the capital.
As a result, her academic records were transferred to Haaga-Helia, but she complains that in this process only 10 of her credits were validated. In order to keep the validity of her residence permit, she needs to complete 45 credits per year, so the studies she made in Kajaani were somehow lost, at least as regards to the legal requirements.
Trip to Vietnam
Then she got involved in another difficulty: in December 2015, after studying the first semester in Haaga-Helia she decided to go home to Vietnam to visit her parents for the New Year. And she assures that during the trip she lost her residence permit. She had to apply for a new one from the Immigration services and it took 10 months to issue it.
She got the new permit in September 2016 and travelled back to Finland in October. When she arrived she knew that all the courses at Haaga-Helia University started before, in August. And the rules of the University state that if a student does not attend the first and or second lecture is not entitled to join the course anymore. The semester was at its mid term and she could only take one course of three credits. As a result, the whole 2016 was lost for her.
Depression
In Helsinki she had to face other problems. Although the capital city is bigger, busier and more populated, life there has also some cons. Adapting was not easy for a person from such a different culture as the Vietnamese, who are famous for their bravery but also for their openness and sociability.
"In winter 2017 I fell into a depression, though I didn´t even notice it. All was very dark and I went down without realising. I almost didn´t have contact with anybody and I broke up with my ex, so I didn´t even have an apartment. I was isolated and depended on other Vietnamese students to have a place to sleep. I had to change from one student-apartment to another every few weeks before my presence was reported. The situation was stressing and didn´t know how to deal with it", she explains.
It took her several months to realise she was depressed. She never thought this could happen to her: "I am active and energetic, I never believed such things could affect me".
When she finally decided to go see a doctor in February 2017, she was diagnosed with severe depression. "The idea of suicide was constantly on my mind, I couldn´t even find a single reason to live. I didn't tell anybody, but thought about how to hang myself and I even planned the clothes and shoes to wear when I do it. Only the image of my mum within my head helped me not to do it". It took six months of medical treatment that she started to feel better and went back to study. But she only got 15 credits of the 20-25 she should have done.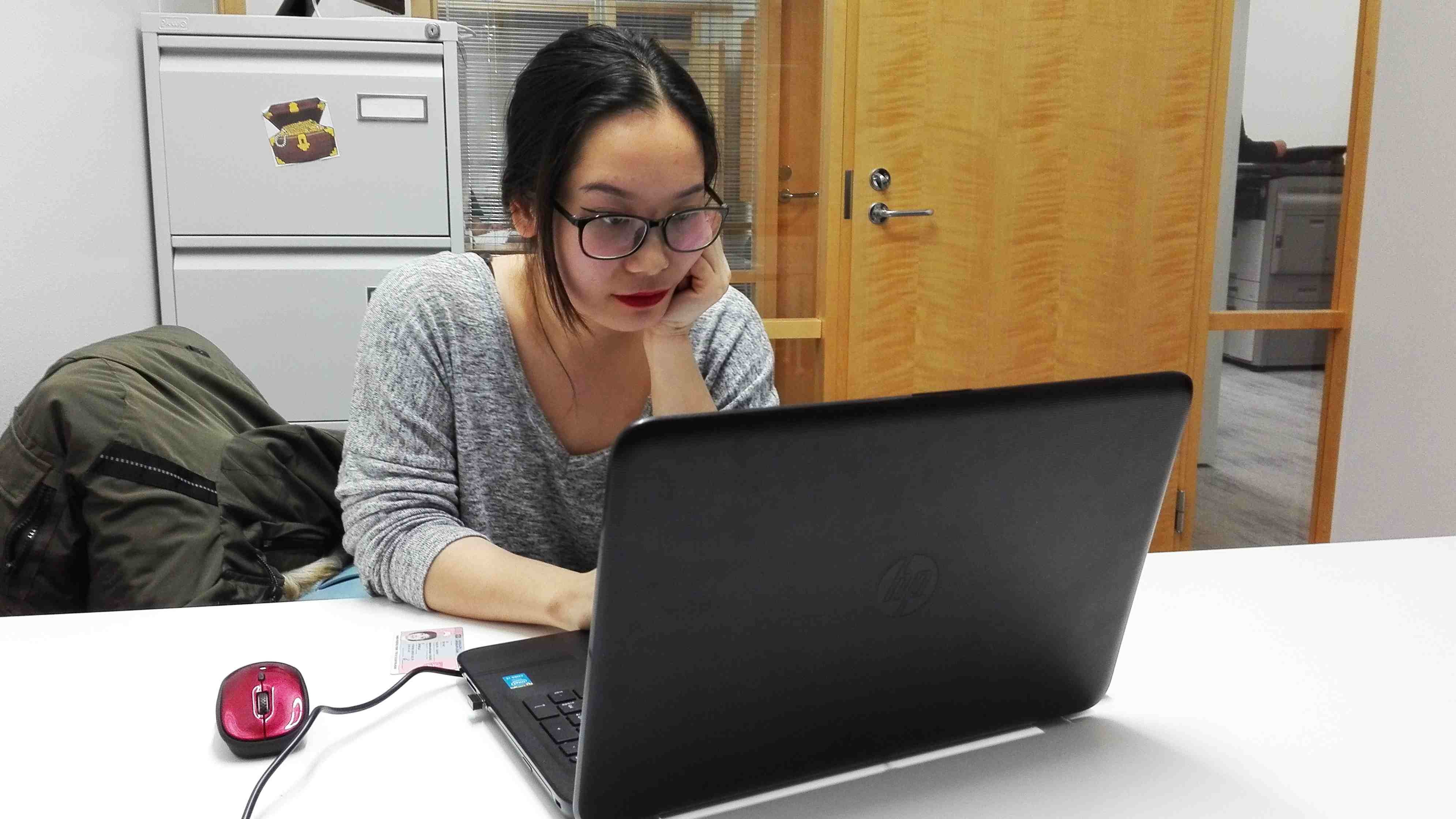 Without Money
In parallel to that, her residence permit had expired in September 2017 though she had applied one week before for renewal. She says she also tried to get some money from home to solve some issues like renting an apartment, but she says her parents couldn´t send the cash because "the Vietnamese Central Bank controls all the banks and all money-transfer companies like Western Union and does not allow to send anything abroad to someone who doesn't have a valid residence permit".
She decided then to start working, but she claims that she always did it within the limits of 25 hours per week that she is entitled as an international student. First in a Thay restaurant for two months and after in a Sushi restaurant, where she says she asked the boss to do also her practical training as a managing assistant. She assures that the maximum she worked was 16 hours per week.
As a result of that all, in April 2018 the Immigration Service (Migri) denied the renewal of her residence permit and did not even accept her medical diagnoses as a mitigating fact. She was called for an appointment at Pasila police station and during the meeting a Vietnamese interpreter told her by phone that "they think I am here trying to work, not to study".
The police told her that if she didn´t appeal to the Administrative Court she would be banned from the country and from Schengen area and wouldn´t be able to return in two years. "The problem is that the previous semester had I got only 15 credits and I had worked also", she insists.
Her last chance
She searched for legal aid that made an appeal to the Administrative Court. They reviewed the decision, but last November her lawyer communicated her that the Court wouldn´t change Migri's decision.
Now she has found another lawyer and is appealing to the Supreme Court. Meanwhile she has been studying hard and since last summer she has got 35 studying credits.
She doesn´t think the Supreme Court will change Immigration's decision and provide her another residence permit, but still keeps some hopes: "The most positive thing that may happen to me is that they don´t ban me from coming to Finland or to the Schengen space". "Then I will go back to Vietnam and apply again to come here and finish the studies". "I still believe in Finnish law", concludes.