Imane Lahrich has become the face in North Africa of a Finnish company specialised in educational services that represents the best universities in Helsinki.
From her office in Rabat, she offers students the opportunity to further their education in one of the safest, wealthiest and most innovative countries of the world. She insists that they are not just mere agents: "We care about our students, we want to be their family and to accompany them through all the process, since they arrive in Finland till they graduate".
-What makes Finland a special place for studying?
-Finland's education system is regarded as one of the best in the world. Plus, Finland's well-educated population is also fluent in English, which makes it the best place to be for international students. Moreover, education is personalised and competition is avoided, which is something we lack in our countries in North Africa. Beyond the degree curriculums and hard skills, Finnish universities reinforce students' soft skills, creativity and autonomy.
-But Finland already receives every year thousands of students from all over the world. Why do you think students from your region should be especially interested?
-The imbalance between offer and demand for training and degrees in North Africa partly explains the desire of many students to expatriate to continue their studies abroad. This expectation is fuelled by social representations that grant the degree of the Nordic countries such as Finland a much higher comparative advantage, giving the fact that the job market is pushing for the degree that will best protect graduate students from unemployment, which is a real socioeconomic issue in countries like Morocco.
In addition to that, degrees in Finland are also taught in English. This is a plus for students from North Africa, especially from Morocco, Tunisia and Algeria, where all higher studies are taught in French. The more multilingual we are, the more opportunities we get in the job market.
-What kind of actions are you taking in order to develop this idea?
-Informing about Finland, its educational system and the Finnish lifestyle. Promoting Finnish educational system in my environment and the particularity of the country. It is important that students know about Finland's high standard of living, safety, social welfare and career development. We are also closely in touch with high school and university students, Finnish media and study platforms.
A company based in Finland
-But then this is a major task, is it your personal project or do you have any partners in Finland backing you?
-Actually we are a Finnish company. This is the project of the Finnish firm Autio Partners Oy, which I joined in November 2018. As a team, we come from different backgrounds and parts of the world with an interest in enhancing students capacities. Finland fits this intention as it has one of the best educational systems. This and the other advantages that the country offers, made us think outside the box and be creative. It is all about match making to fulfil the needs of the students from North Africa who want to have the opportunity to make a life investment in Finland. So, to answer your question, we are a team located in Finland with a Coordination Centre in Rabat (Morocco).
-Then, when someone comes to you and says 'I want to study in Finland', can your company offer them anything else than mere information? I mean, do you have any concrete agreements with educational institutions?
-We provide not only orientation services but all what is needed to facilitate students' journey, from admission to integration in Finland. This is applied for all universities and colleges in Finland.
Besides that, we are currently the official recruiters of Haaga Helia University of Applied Sciences (Helsinki) in Morocco, Algeria, Tunisia & Egypt. And we are currently signing a similar contract with Metropolia University of Applied Sciences, also in Helsinki.
These agreements with educational institutions allow us to personalise the students' needs and to closely work with the institutions. We are not just mere agents, we want them to become a part of our community of students, to accompany them in their journey and follow their situation since they arrive in the country till they graduate. And of course, we are also a guarantee to their families in the countries of origin. Parents can always contact us in case that some problem arises or any issue must be solved.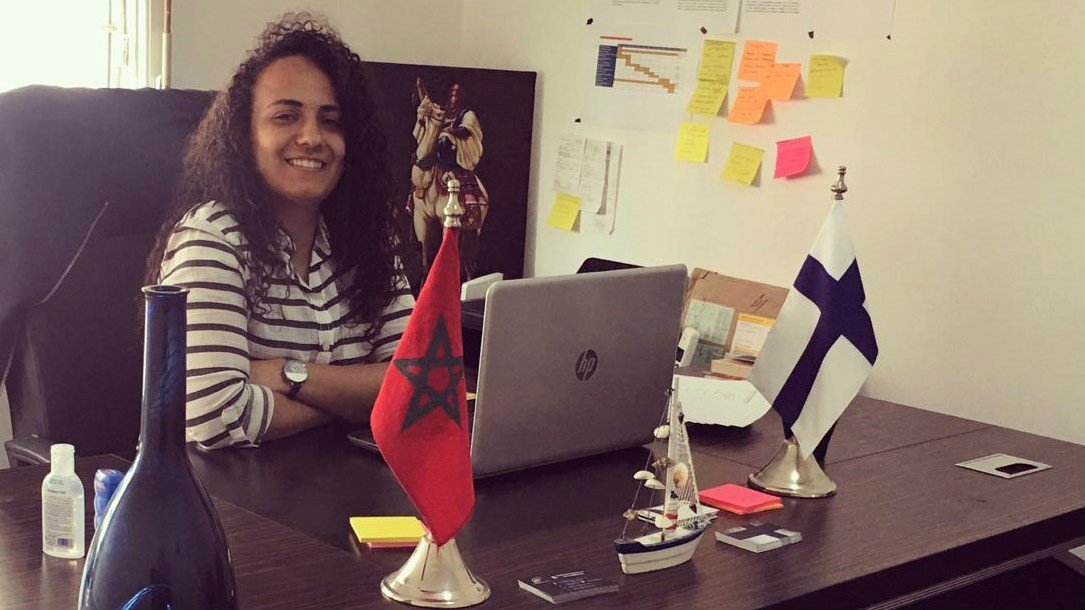 Imane Lahrich at her office in Rabat. Image by Foreigner.fi
-Does this mean that anyone can just come to you and get a study place in Finland or are there also academic requirements to meet?
-Of course, students are asked to pass an entrance exam, both for the Bachelor and the Master degrees. Plus, fluency in English is required. This may be proved by an English language certificate such as TOEFL or IELTS.
Instead of the entrance exam, another possibility for those who hire our Premium package is to conduct a Skype interview and/or home assignment with our partner universities such as Haaga Helia. As an alternative to entrance examinations, Haaga-Helia University also accepts SAT test.
Visa and residence permit assistance
-Besides arranging the study place, do you offer any other services? Why should families trust that their children will be safe with you?
-We provide orientation services during all the process, from the application to the acceptance and admission. We provide assistance for the visa and/or residence permit application. We can also extend our services if the student needs assistance concerning accommodation, and other integration aspects.
And we also have a legal office backing us with eight expert lawyers on Immigration issues, in case it is needed. As we care about the results and the impact, we are always happy to keep in touch with students and to assist them whenever needed. For example, to get a trainee shop or internship as part of the academic fulfilment. As we believe, study in Finland is not only a degree investment, but a career and a life investment.
-What kind of feedback are you getting from North African students?
-Our first challenge is to make students from North Africa aware about Finland as a study destination because the information is not always easily available for them. At the beginning, we got massive calls and appointments at the Coordination Centre in Morocco with people interested in getting information about Finland, Finnish universities, job market, living costs, integration in Finland careers, etc.
After, we realised that most of the students who decided to start their applications face their study journey as an adventure, as something attractive to be distinguished from the 'usual' student who decides to study abroad in a French environment. Others look at it as a challenge but might need extra time to get ready for it, at least in terms of English language proficiency.
-Which are the most attractive studying fields for youngsters in your area?
-There is an increasing demand for degrees related to IT, Business administration, Digital Marketing, Tourism & Management, Engineering & Architecture, Medical studies & Sport but also Fine arts!
-Finally, if anyone who reads this is interested in your services, how can s/he find you?
-They can contact me at our Coordination Centre in Rabat, Morocco:
Imane Lahrich - Project Coordinator
Rue Jbel Toubkal, Building 28, Apartment 4, Agdal - Rabat
Phone number: +212 537683 562ç
Mobile: +212 666 305 515
Also available in social media:
Facebook: @APFinlandMorocco
Twitter: @AutioPartners
Instagram: @partnersautio