October 4, 2020 at 9:56 PM
Peaceful Finland has lived this weekend immersed in a national debate around the alleged brutality exhibited by a group of policemen who on Saturday used pepper spray to disperse a group of peaceful climate protesters in Kaisaniemi.
Today, as we were peacefully protesting for climate action, we got pepper-sprayed at point-blank range. We are a nonviolent movement and today's experience of police violence only strengthens my conviction: we are doing the right thing. They are not. #elokapina #XR #syyskapina pic.twitter.com/dttRBZrT5V

— Till Sawala (@TillSawala) October 3, 2020
The events occurred on Saturday afternoon after a group of protesters belonging to the Extinction Rebellion (Elokapina) organization blocked Kaisaniemenkatu, a major street in central Helsinki. They demanded the declaration of a state of climatic emergency in Finland.
Faced with their resistance to leaving the area, the police decided to use force measures to disperse them. Police arrested 51 people, all of whom were released on Saturday evening.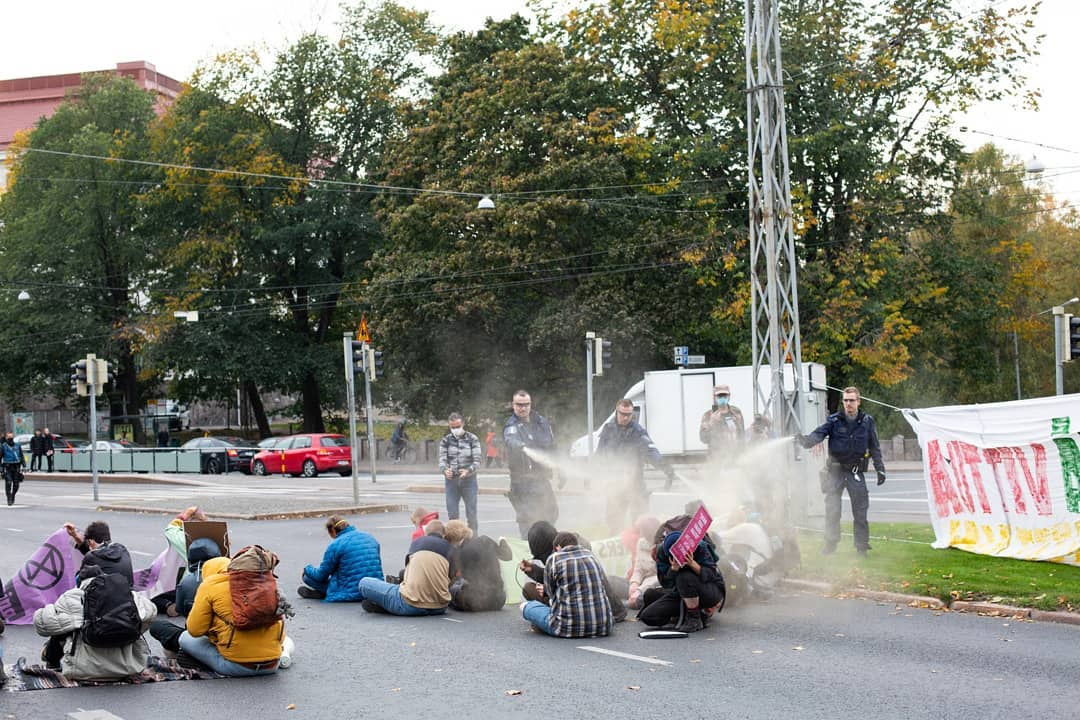 Several police officers used their sprays. Photo: Twitter/@sheislawrence.
Minister of the Interior
The police action was denounced on Twitter by numerous citizens and climate activists, who considered it disproportionate. Others backed the police action, which they justified by the protesters' refusal to obey their orders.
Respect #elokapina activists, you give me hope. Shame @HelsinkiPoliisi: is this what democracy is to you? @SuomenPoliisi is this how you protect the safety of the people? This is police violence and yes this is Finland #poliisiväkivalta pic.twitter.com/uRkibRyRhH

— Sini Saarela (@SiniSaarela) October 4, 2020
The controversy led Interior minister Maria Ohisalo to intervene on Saturday evening and write in her twitter account that she was "reviewing" an initial report on the events, focused on the use of force by the police.
"The use of force must always be a last resort and there must be a strong case for it," the Interior minister warned.
Oliko Poliisin #voimankäyttö #elokapina-mielenosoituksessa tänään oikeasuhtaista? Olemme saaneet asiasta alustavan selvityksen jota käydään läpi. Voimankäytön on oltava aina viimeinen keino ja sille on oltava painavat perusteet. 1/2

— Maria Ohisalo (@MariaOhisalo) October 3, 2020
Police investigation
In a statement issued Sunday afternoon, the Helsinki Police Department said they decided to break up the protest because it was causing a significant traffic disruption. The statement also said that the department will carry out an investigation into the events.
The investigators will look into who gave the order to use the pepper spray against the protesters.
Extinction Rebellion activists said they are now considering whether or not to file criminal complaints against the police officers involved in the incident.