The Finnish Prime Minister reacted today angrily to a rumor that has been spreading in some forums and social networks during the weekend, in line with the reports related to the case of the payment of her family's meals with taxpayers' money in the official residence of Kesäranta.
This scandal led some Finnish people to check the website of the Openprocurement.fi service, which offers information on state and municipal procurement. And it turned out that on her wedding day, 1 August 2020, a payment of more than 23,000 euros was recorded.
The wedding was also held at the official residence of Kesäranta and the celebration was made public a day later.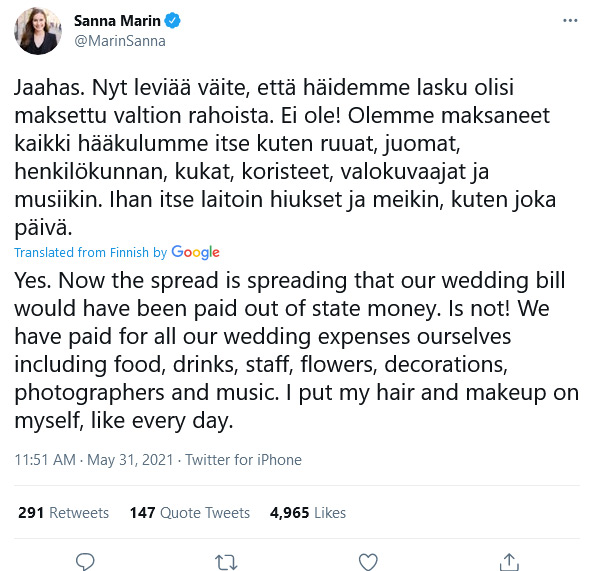 Image: Screenshot of Marin's tweet, with Google's translation.
"We paid for all our wedding expenses ourselves, including the food, drinks, staff, flowers, decorations, photographers and music. I put my hair and makeup on myself, like everyday," the Prime Minister wrote in Twitter on Monday, shortly before noon.
50 different events
As reported by the Finnish press, the Prime Minister's team has also denied that those more than 23,000 euros correspond to payments related to the wedding.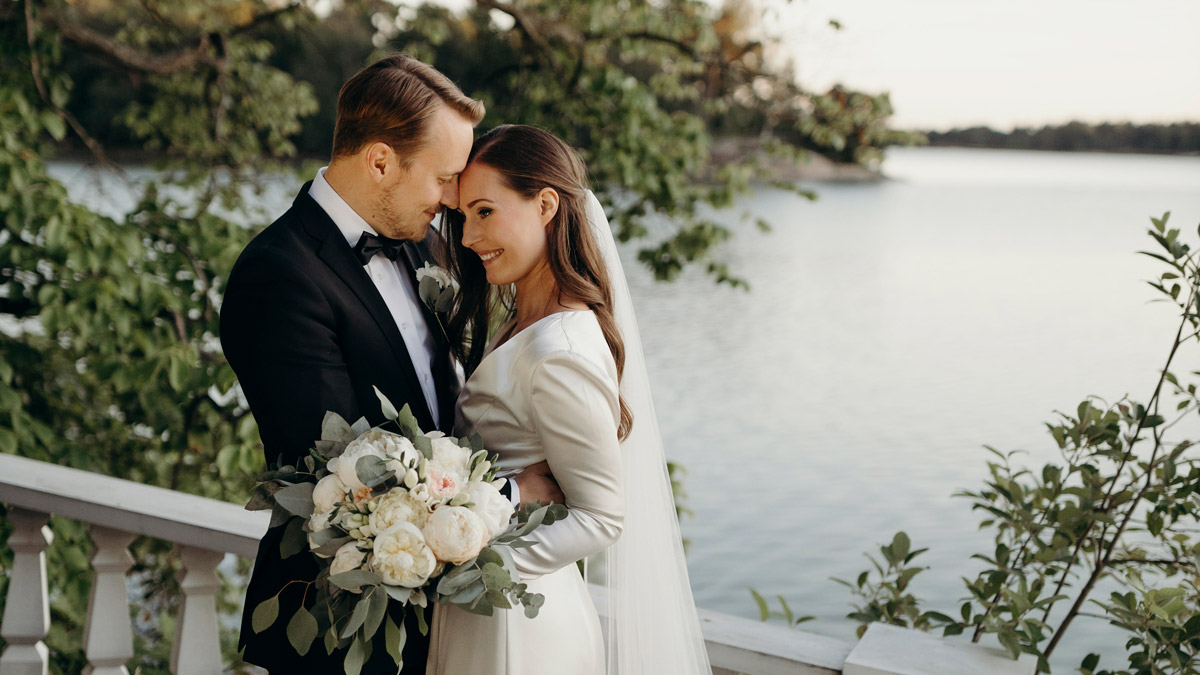 A picture of Sanna Marin's wedding released the next day by the government. Photo: Minttu Saarni.
The government Communications Department explained that those 23,000 euros is the sum of 50 separate invoices published on the same day. The amounts added correspond to different events held in the months of June and July, according to the explanation provided by government staff.
Two weeks before the elections
The case of Marin's meal payments with public money was revealed last week by the newspaper Iltalehti and has sparked a bitter debate in recent days among Finnish supporters and detractors of the prime minister.
On Sunday, two weeks before the municipal elections, the scandal became even more complicated for Marin, after the government admitted that the payments amount to 850 euros per month "on average", instead of the 300 euros initially said.
The Finnish Police announced a preliminary investigation into these payments last Friday.