April 21, 2020 at 10:35 PM
The company for which Prime Minister Sanna Marin's husband works has also benefited from grants from Business Finland. In this case, the company does not belong to the family of the head of government. Marin was quick to communicate it on her Twitter account before the news came out otherwise.
The Finnish Prime Minister made this announcement in the evening, the same day that the Government had to announce an investigation into the way Business Finland granted its subsidies to companies.
The audit was announced by the Minister of Economic Affairs, Mika Lintilä, after Government receiving a lot of criticism for giving large amounts of funds to companies with large turnover, instead of helping small and medium-sized companies that are in difficulties due to the coronavirus crisis.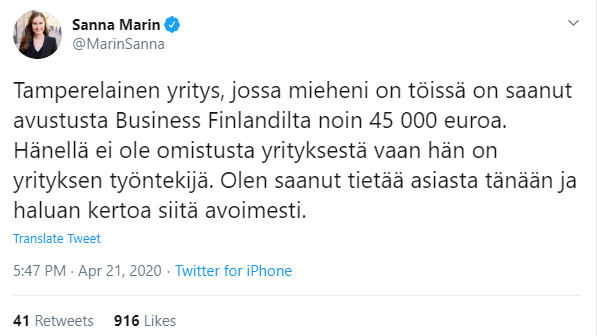 "A Tampere-based company where my husband works has received a grant from Business Finland of about 45,000 euros. He has no ownership of the company but is an employee of the company. I have come to know this today and I want to tell you about it openly," Prime Minister Marin said.
In a second tweet, the Prime Minister even described the activity of the company where her husband works. According to her, they have been "helping" other companies "for free" to apply for Business Finland's grants.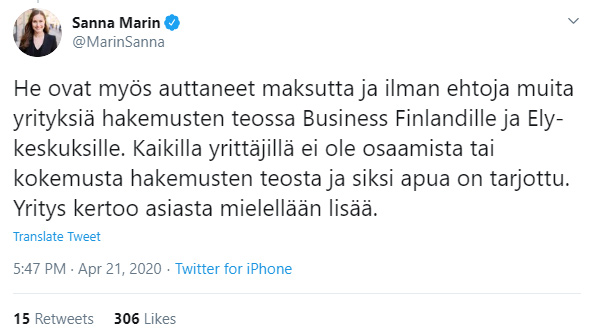 "They have also assisted other companies, free of charge and unconditionally, in applying to Business Finland and the Ely Centers. Not all entrepreneurs have the skills or experience to make applications and therefore help has been offered. The company will be happy to tell you more," she concluded.