Sales of passenger cars recovered a bit in February 2021, but without recovering the levels of the same month a year ago, when the coronavirus crisis was still beginning.
According to Statistics Finland's latest data, in February the number of new passenger cars first registered was 8,170, down 1.2% from the same period of the year before.
The trend that draws attention in recent months is the growing number of electric cars and plug-in hybrids purchased by Finnish drivers. Among those cars first registered in February, the share of new electric passenger cars was 4.4% and plug-in hybrid electric cars 21.4%. A total of 2,104 new electric and hybrid electric cars were registered, which was 57.2% up from February last year.
In February, a total of 13,776 new motor vehicles were registered in Finland, of which 9,424 were automobiles. First registrations increased by 5.9% from the corresponding month of the previous year.
These data are based on the Traffic Affairs Register of the Finnish Transport and Communications Agency (Traficom) and they have been produced by Statistics Finland. The numbers are exclusive of the vehicles on the Åland Islands.
Toyota, Skoda, Volvo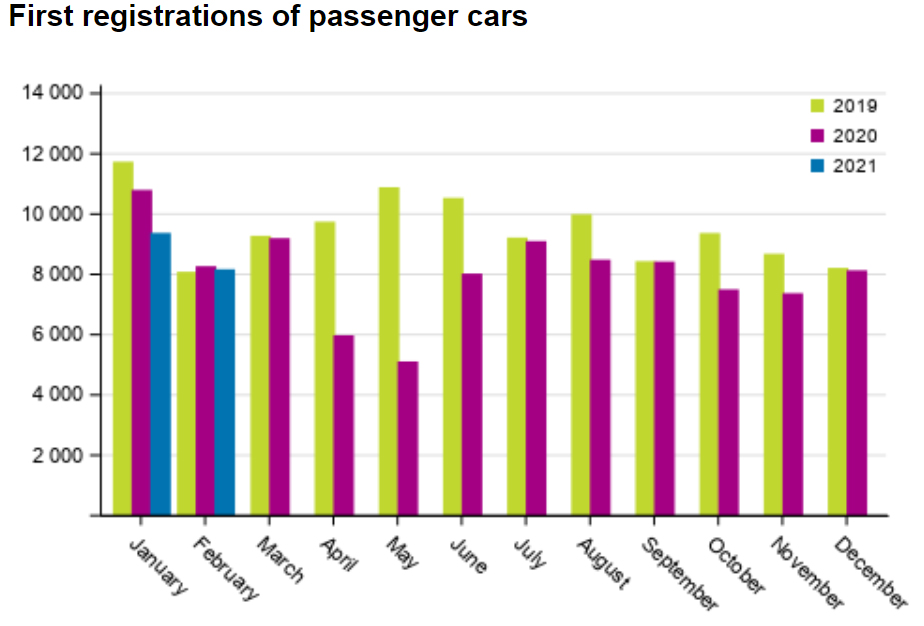 Source: Statistics Finland.
The number of passenger cars first registered in the January to February period was 17,545, which is 8% down from the year before.
The most common passenger car makes first registered in the January to February period were Toyota, Skoda and Volvo.
In the January to February period, 29,005 vehicles were first registered. Compared to the year before, there was a decrease of 1.2%.