December 2, 2020 at 9:37 AM
Despite the deterioration of the situation caused by the spread of the coronavirus epidemic, October 2020 was a good month for retail in Finland. The retail trade business recorded a general improvement, both in turnover and in sales volume, according to the latest data from the Finnish statistical office.
According to Statistics Finland's retail trade flash estimate, the working day adjusted turnover of retail trade increased by 5.9% in October 2020 from the same month of the previous year.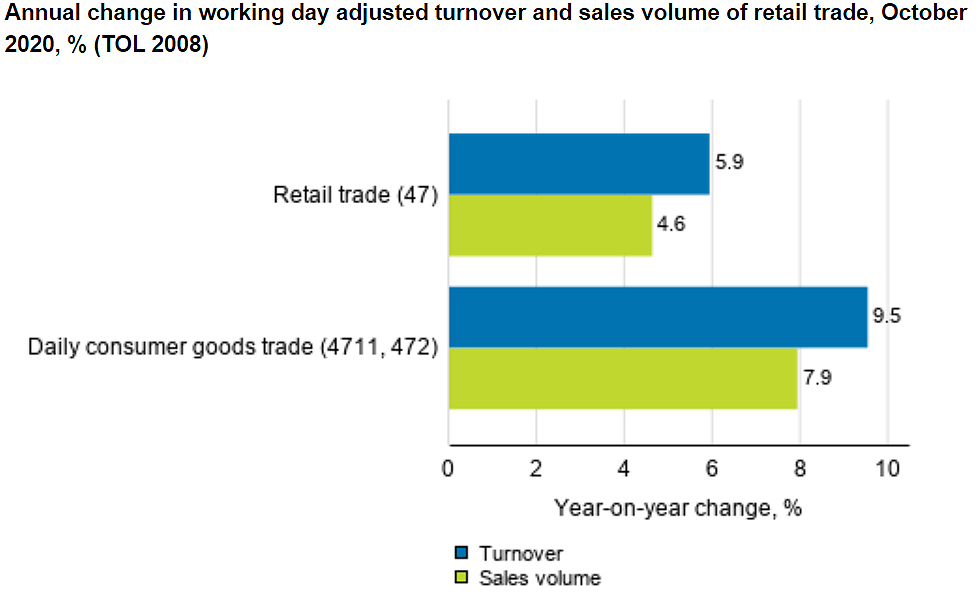 Source: Statistics Finland.
The volume of retail trade sales, from which the impact of price changes has been eliminated, increased by 4.6% over the same period.
This improvement in sales was especially visible in daily consumer goods, whose adjusted turnover increased by 9.5% in October and the sales volume, in turn, by 7.9% from the corresponding period of the previous year.
Proportion of consumer goods
According to the Structural business and financial statement statistics, daily consumer goods accounted for 50.9% of turnover in retail trade in 2018.
The retail trade flash estimate is based on a sample covering, on the average, 60% of retail trade turnover. Data on trade sales by industry will next be released on 14 Dec 2020.