August 6, 2021 at 12:12 PM
Rental prices for non-subsidized apartments continue to rise across Finland, despite the pandemic.
According to the latest data from Statistics Finland, in the second quarter (April-June) of this year, rents increased especially in the cities of Turku (1.6%) and in Tampere (1.4%) compared to a year ago.
In the Greater Helsinki area the year-on-year increase was 0.9%, the same as for the rest of the country.
During the observed quarter, rental prices only fell in Mikkeli (-0.2%). In Jyväskylä, the price increase was minimal, only 0.1%.
Apartment rental companies attribute this almost general rise in prices to the growing demand for homes.
Apartment prices
According to Statistics Finland, the median rent for a non-subsidised one-room (studio) flat was 809 euros in the center of Helsinki, 583 euros in downtown Tampere and 515 euros in the center of Oulu.
For families, of course, spending on housing is much higher. The median rent for a family dwelling, for example a three-room or larger flat, was 1,634 euros in the center of Helsinki, 1,070 euros in the center of Tampere and 940 euros in the center of Oulu.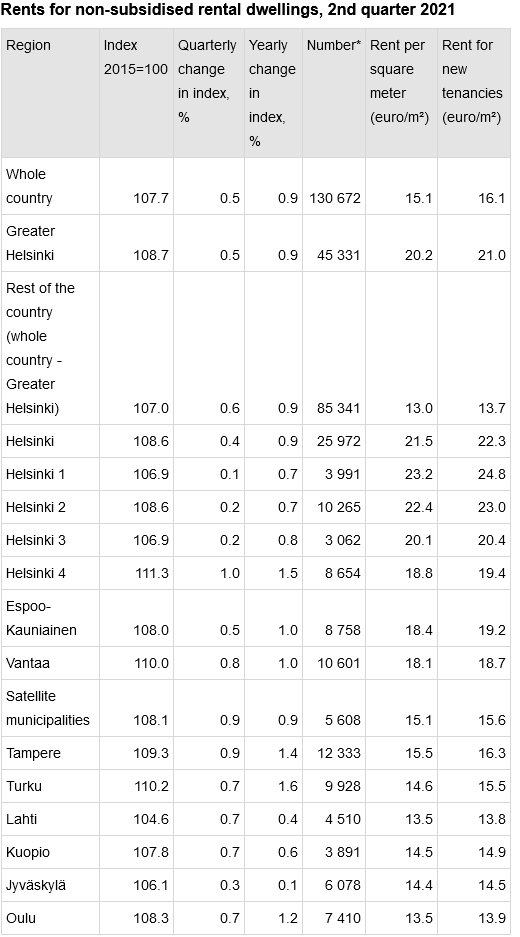 Source: Statistics Finland.
Compared with 2015, non-subsidised rents have risen most in Kerava (10.5 %) and Turku (10,2 %). In Greater Helsinki, rents have risen by 8.7% and in the rest of the country by 7% from 2015.