October 28, 2020 at 9:17 AM
Rental prices increased from 2020 on average by 1.2% across Finland so far in 2020. The rise was somewhat higher in the Greater Helsinki area, where the average increase was 1.5% at the end of the third quarter.
And within the capital region, there were three municipalities that stood out for the increase in prices.
According to the statistics on rents of dwellings produced by Statistics Finland (Tilastokesus), the rents of non-subsidised rental dwellings increased most in the year in Kerava (1,9%), in Vantaa (1,8%) and in Porvoo (1,8%) in the third quarter of 2020.
Large towns
In large towns, the rents of non-subsidized rental dwellings have increased most in Vantaa, Turku, Tampere and Helsinki compared to the 2015 baseline scenario.
The rise in rents was lowest in Seinäjoki, Riihimäki and Hämeenlinna. In Greater Helsinki, rents have risen by 8% and in the rest of the country by 6% from 2015.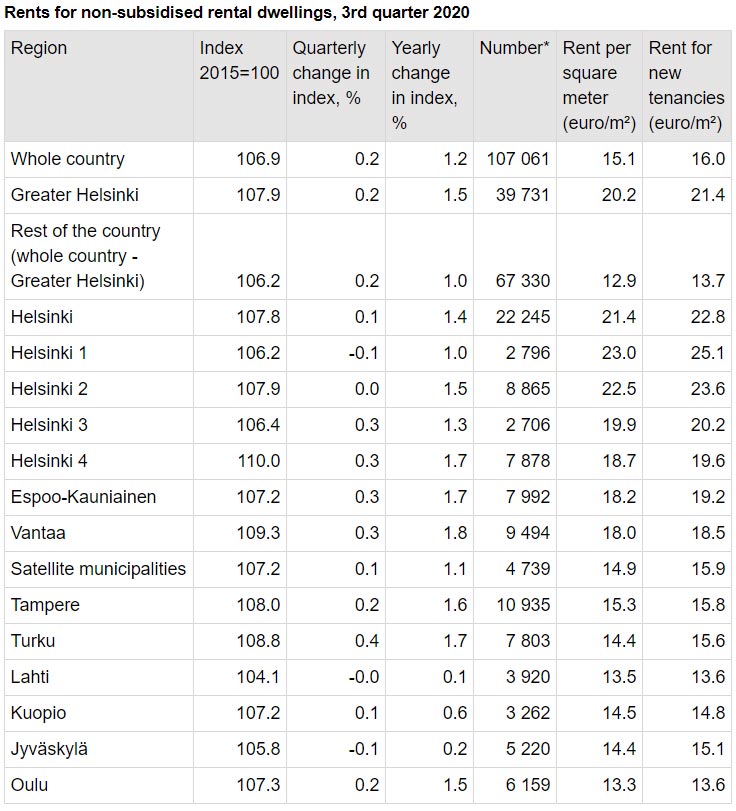 Source: Statistics Finland.
Price per m² lowest in Kouvola
The average rent level of non-subsidized rental dwellings is highest in Helsinki, 21.4 euros per m² and lowest in Kouvola, 10.9 euros per m².
In new tenancies signed in the last six months, the average price of a rented square metre of a one-room flat was 27.8 euros per m² in Helsinki, 19.3 euros per m² in Tampere and 18.5 euros per m² in Turku.
The data included in this articles derive from Statistics Finland's quarterly statistics on rents of dwellings, which is based on data from the Social Insurance Institution housing aid register and private rental housing companies.