February 21, 2020 at 12:02 PM
Finnish companies often complain about the lack of skilled labor to work in the information and communication technology (ICT) sector. This week, Finnish employment minister Tuula Haatainen said Finland needs skilled foreign labour to work in fields where there is a shortage of native experts. And ICT is the main one.
However, this is not a problem restricted to Finland, but it affects the entire European Union (EU). The latest figures published by the EU statistical office (Eurostat) confirm this. There is not a single country among the twenty-seven member states that are not experiencing similar difficulties.
According to Eurostat, hiring expertise in information and communication technologies is a challenge for businesses across the continent. On average, 9% of EU enterprises recruited or tried to recruit ICT specialists in 2018. More than half of these enterprises (58%) reported that they had problems filling vacancies requiring relevant ICT skills.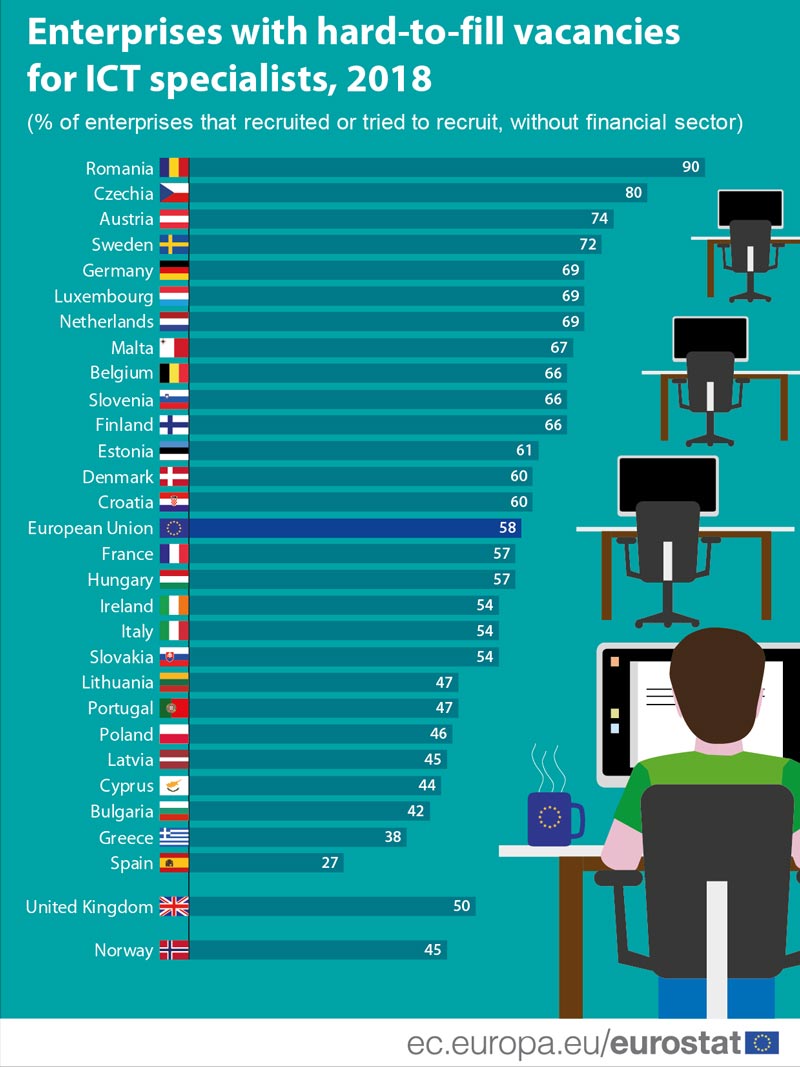 Romania, where more specialists are missing
Among the EU Member States, enterprises in Romania found it most difficult to recruit ICT specialists. Although only 3% of Romanian enterprises recruited or tried to recruit ICT specialists during the year analyzed, 90% of them found it hard to fill these vacancies.
Recruitment of ICT specialists was challenging for enterprises also in Czechia, where 80% found it hard to fill such vacancies, as well as in Austria (74%) and Sweden (72%). Finland was also above the EU average, with 66% of companies that said they had difficulty finding the professionals they need.
In contrast, the proportion of businesses finding it difficult to recruit ICT specialists was below 40% only in Spain (27%) and Greece (38%).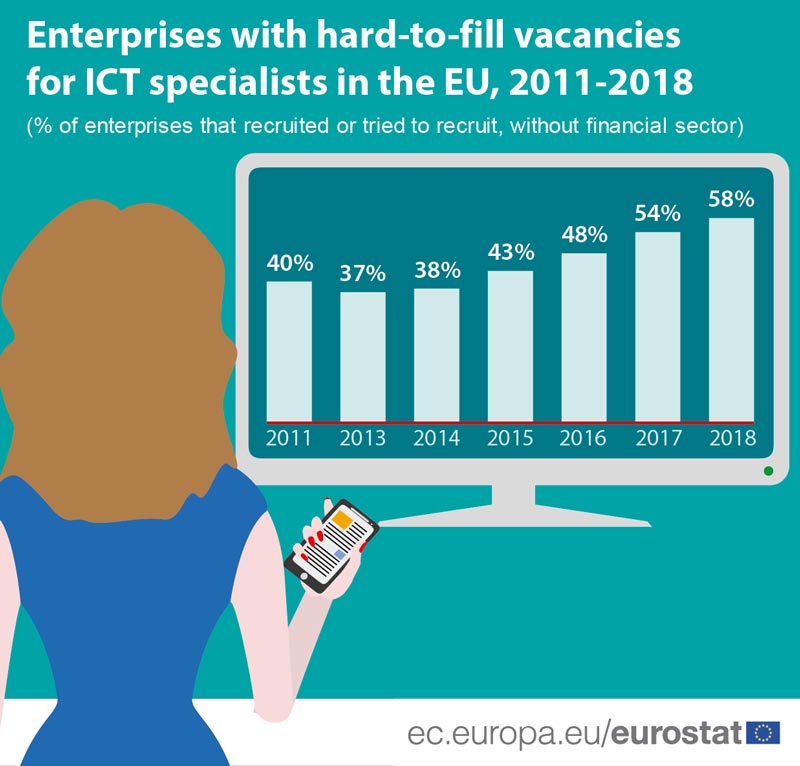 Eurostat stressed that it is becoming more and more challenging for enterprises in the EU to fill their vacancies for ICT specialists.
The share of enterprises who found it hard to fill these vacancies stood at 37% in 2013 and 38% in 2014. However, this share has risen sharply by 4-6 percentage points every year since, reaching a peak in 2018.