June 29, 2021 at 11:28 AM
Prices of existing dwellings in Finland rose in May in all the biggest towns and in all major regions except for Eastern Finland compared with the previous year.
According to Statistics Finland's data, prices rose strongly, as a rule, in various parts of Finland in both blocks of flats and terraced houses.
In Greater Helsinki, prices of dwellings in blocks of flats rose by 5.3% and in terraced houses by 6.5% year-on-year.
Compared with the corresponding period of the year before, prices of existing dwellings in housing companies rose most in Oulu and Helsinki.
Since 2015, prices have risen by nearly 28% in Helsinki and by 7% in Oulu.
Prices by region
Examined by major region, prices of old dwellings rose on the annual level most in Northern Finland.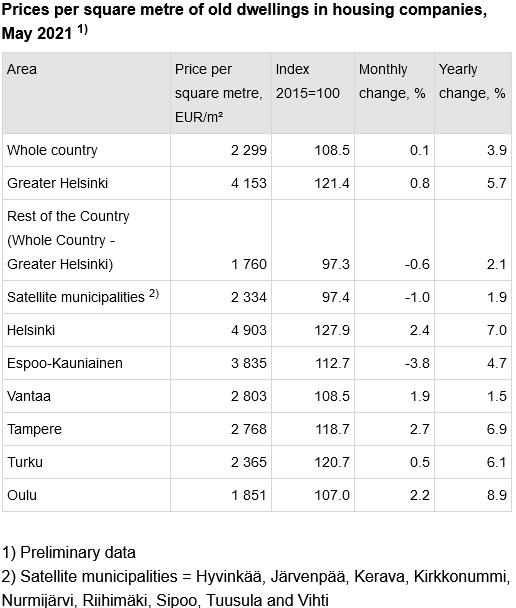 Source: Statistics Finland.
In April to May 2020, dwelling transactions plummeted during coronavirus shutdowns. In this year's April, 60% more dwelling transactions were made through real estate agents than one year ago.
Compared with April 2021, 4% fewer transactions were made in May.