April 23, 2020 at 4:53 PM
Maybe everything was a lie. At least that is what the Finnish police say now, although so far they have not presented the evidence.
The European Court of Human Rights (ECHR) ruled in November 2019 that Finland violated articles 2 and 3 of the Convention of Human Rights regarding the case of an asylum seeker which was sent back to Iraq after being rejected by Migri.
His daughter claimed that, shortly after being returned, her father was shot dead in the streets of Baghdad and took the case to the European Court of Human Rights.
The court ruled for first time that the state of Finland had violated someone's human rights and the state had to pay 20,000 euros to the victim's daughter for damages and other 4,500 euros for costs and expenses.
The case caused a major commotion in Finland and the government temporarily suspended deportations of Iraqis whose residence permit applications had been rejected.
The police investigation
The case attracted international attention and, in parallel to the measures taken by the Government, the Finnish National Bureau of Investigation (Keskusrikospoliisi, KRP) decided to open a preliminary investigation.
According to a information released Wednesday, to date, police say they have gathered enough evidence to suspect this is a case of aggravated fraud and aggravated forgery.
The police suspect that the documents that led to the Court's decision were forged and the plaintiff's father would be still alive
"The National Bureau of Investigation has obtained information on the matter and a response to a request for legal assistance has been received from Iraq, among others. One person has been interrogated and arrested," says police Commissioner Jan Aarnisalo, from KRP, who did not say if the person arrested is the plaintiff.
The police has established cooperation with the Attorney General's office in order to continue investigating.
Perussuomalaiset blame Ohisalo
Shortly after the news broke, the leader of the True Finns (Perussuomalaiset), Jussi Halla-Aho blamed the Minister of the Interior, Maria Ohisalo, through his Twitter account.
Halla Aho, whose name sounds among the candidates to run for the next presidential election, called asylum seekers "tourists" in his first tweet.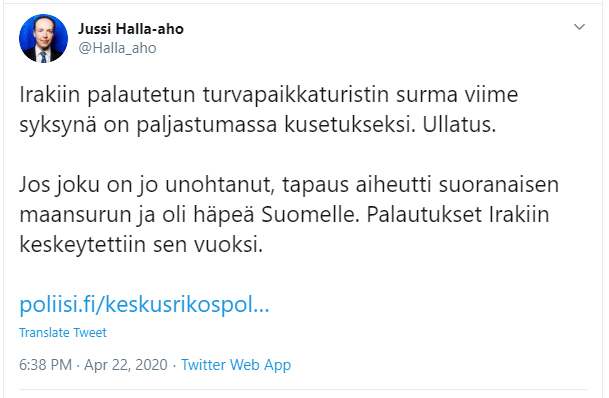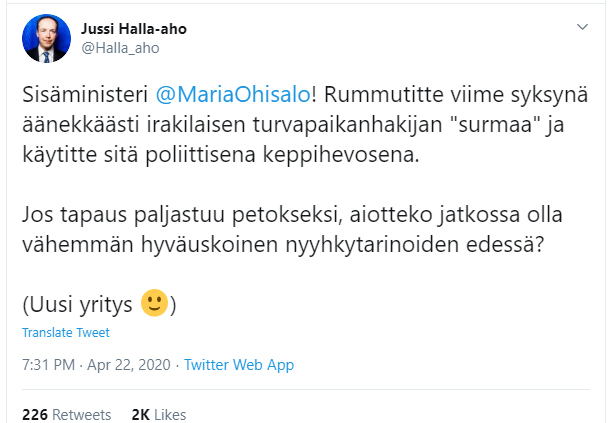 "Minister of the Interior Maria Ohisalo! Last autumn, you loudly drummed the "killing" of an Iraqi asylum seeker and used it as a political stick horse. If the case turns out to be fraudulent, are you going to be less gullible in front of sobbing stories in the future?," he asks in a second tweet which soon received more than 2,000 likes.