October 21, 2019 at 10:40 PM
The Helsinki Police Department on Monday warned of an increase in cases of fraud in purchases of second-hand items made through the popular Tori.fi platform.
This autumn several fraud incidents of the same type on the online selling website have been reported in the Helsinki area.
The fraud method is simple: when the buyer meets the seller to acquire a product advertised through the platform, shows a false receipt or bank statement, which he has fabricated for example on the demo page of his bank.
The seller believes that the transfer to his account has already been made, so he delivers the item purchased. Later, when he checks his bank account, he realizes that no money deposit has been made. He has simply been scammed.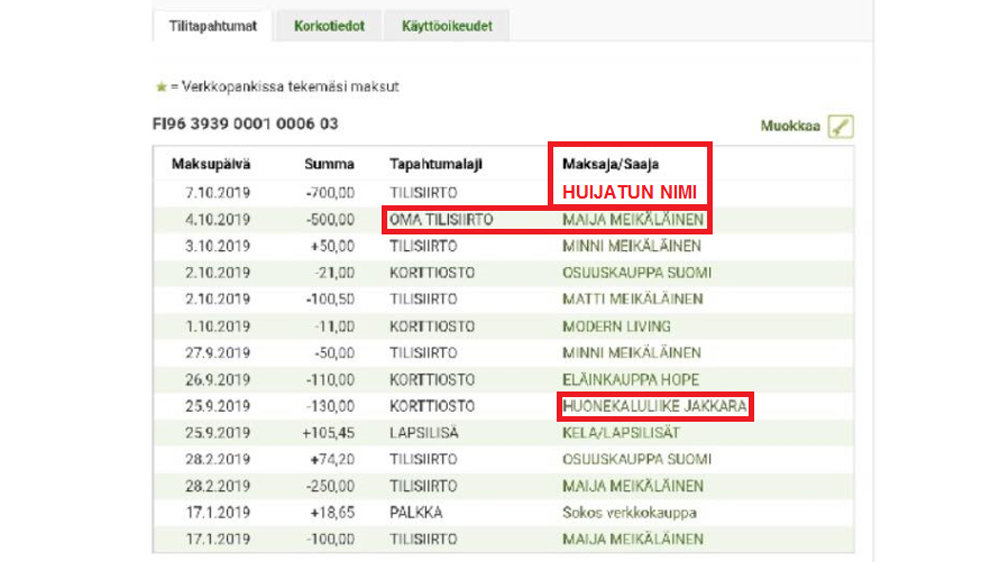 Picture of a fabricated bank statement. Image: Helsinki Police Department.
Technology items
According to police information, fraud of this type has been suffered by persons who sell for example technology items such as mobile phones and computers.
Usually the fraudster offers to buy the item and then sets a meeting with the seller. The scammer sends in advance a picture of the receipt of the bank transfer or shows a bank statement on his phone at the moment of the sale. In this fake statement, the name of the seller is set as the receiver of the payment. At least in one case, the seller was even requested to write his bank account information into the buyer's false online bank service.
Detective Chief Inspector Hannu Kortelainen, from Helsinki Police Department, explained that some false receipts used to commit these frauds "have been manufactured on the demo pages of at least S-Pankki and Ålandsbanken. The bank statement shows implausible names like Maija Meikäläinen".
Be careful with payments
The police urge sellers to be careful with payments. Someone selling a second hand article should always check in his own online bank service or from a printed bank statement that the money has actually arrived to his account.
Another option is to carefully inspect the receipt or bank statement presented by the buyer. "Particular attention should be paid to the dates and to the names of individuals and companies", police says.