March 5, 2021 at 10:14 AM
The number of female managers is growing in companies, entities and institutions, but they are still underrepresented throughout Europe.
According to the latest figures published by the European statistical office (Eurostat) on the occasion of Women's Day, in the third quarter of 2020 more than 9.5 million people held a managerial position in the European Union (EU): 6.2 million men and 3.3 million women.
The numbers show that, although women represent almost half of all employed persons in the EU (46%), they are underrepresented amongst managers (34%).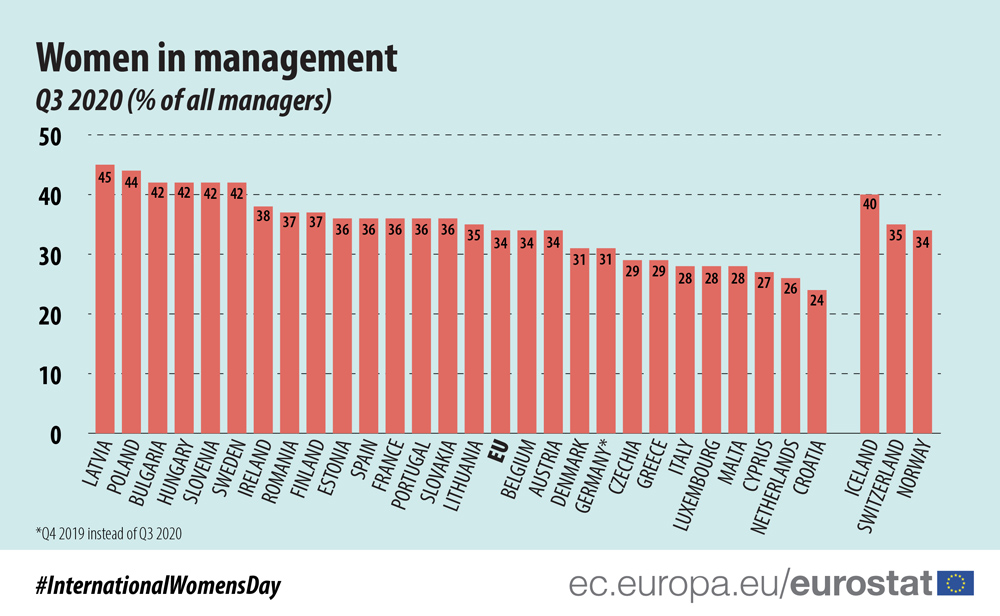 Source: Eurostat.
Finland is above the European average, with 37% female managers, but far from the top positions: it ranks in ninth place, just behind Romania and one place ahead of Estonia.
Finland is located in this ranking 5 points below Sweden (which is in sixth position with 42% of women in management positions) and eight points below Latvia, which is in the first place.
Lowest share in Croatia
With some bumps on the road, the share of women in managerial positions has gradually increased in Europe from just below 30% in 2002, when the statistical series began.
Among EU Member States, the largest share of women at managerial positions in 2020 was recorded in Latvia (45%) and Poland (44%), followed by Bulgaria, Hungary, Slovenia and Sweden (all 42%).
At the opposite end of the scale, women account for only around a quarter of managers in Croatia (24%), the Netherlands (26%) and Cyprus (27%).
The current Covid-19 pandemic has led to unprecedented changes in the workplace. As a result, managers face a challenging task of planning, directing, coordinating or performing other activities critical for good functioning of their teams, companies or organisations.
While both women and men bring different qualities to crisis management, women remain outnumbered at the management level.