The vast majority of immigrants in Finland (75%) have gone through the Covid-19 pandemic with concern. And at least a third of them believe that their mental health has deteriorated due to fear of illness and the effects of restrictive measures imposed to curb the virus. However, the negative effects have not affected all foreigners equally: those enrolled in integration programmes experienced less anxiety, suffered less and felt more hopeful.
These are the main conclusions of a survey conducted among migrants by the Finnish Association for Mental Health (Mieli) between 16 April and 13 May. The study was based on online interviews to 1,170 participants from 9 different language communities: Finnish, English, Arabic, Russian, Turkish, Somali, French, Persian and Thai.
According to the responses, a third of immigrants' mental health deteriorated during the outbreak of the pandemic. They experienced this deterioration mainly through symptoms such as less sleep, the need to eat more and more often, and less exercise compared to the times before the coronavirus.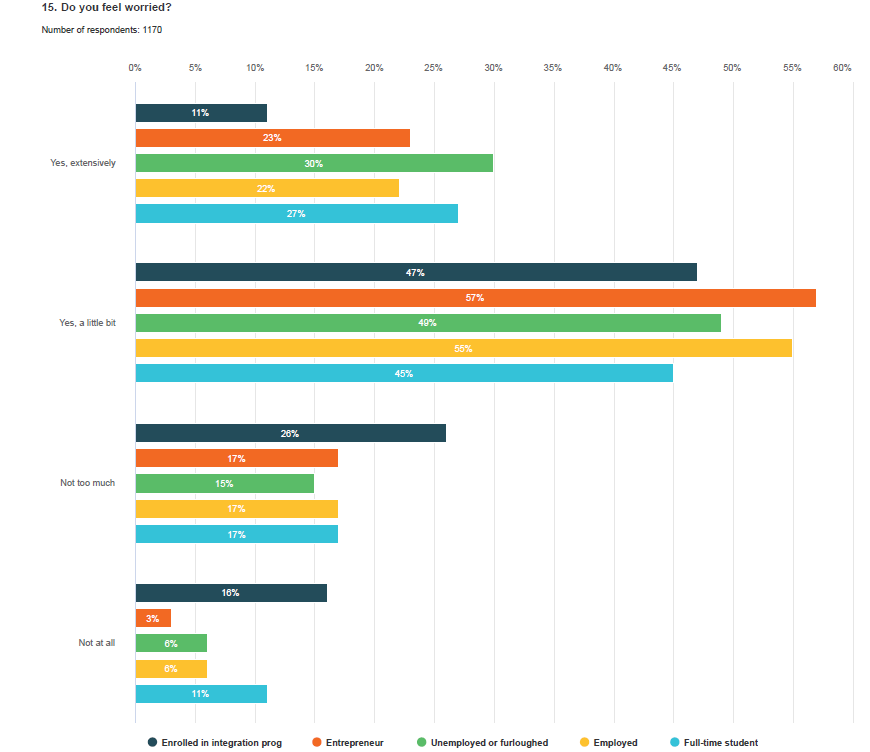 Source: Mieli.
The reasons for concern
One in four immigrant (25%) felt extensively worried about the pandemic, while half of them (50%) did express feeling worried. Only a quarter said they did not worry much or at all.
The reasons for worry vary. The most common, according to the answers provided by the participants, are those family members who do not live in Finland. Respondents were more concerned, for example, about their long distance family members's health than about their own. 23% also said they felt worried about their home country's situation and 13% for long distance family's financial situation.
"75% of the migrants participating expressed that they are worried. What is surprising is that they are more worried about their family members who do not live in Finland than about themselves or their children," explained Melis Ari-Gürhanli, Regional Project Officer at Mieli.
Almost half of the survey participants (48 %) said the international mobility restrictions are affecting their lives and plans. One third also expressed concern about their own or immediate family's financial situation.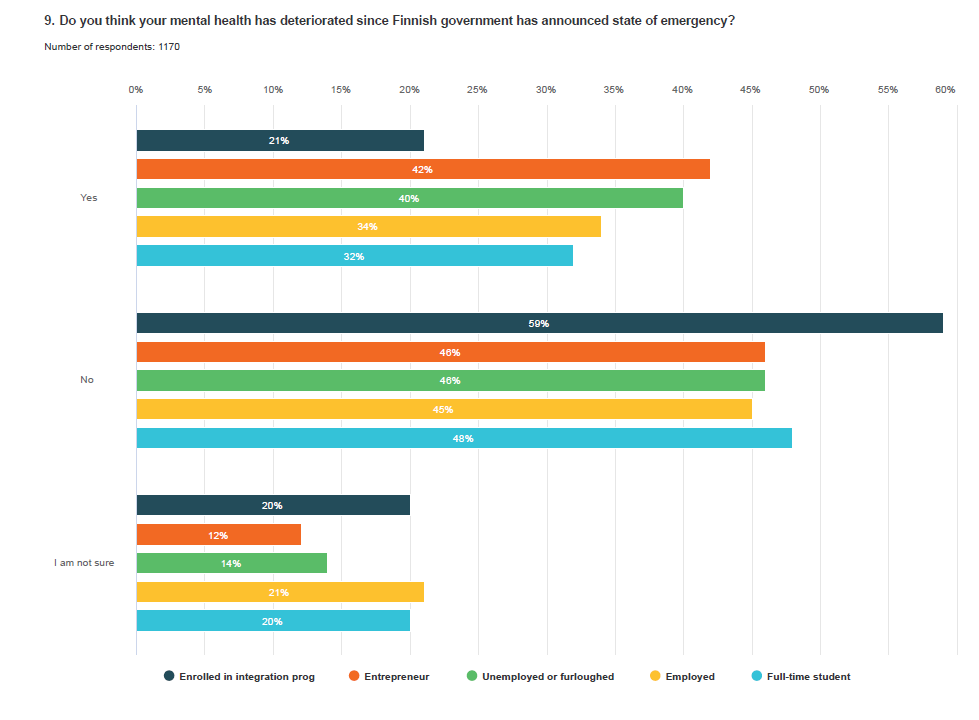 Source: Mieli.
Integration programmes
The survey also shows that immigrants enrolled in integration programmes suffered less. According to Mieli, they experienced less worry, less stress and felt more positive and hopeful than those who are employed, unemployed or furloughed. Of those, only 21 % said their mental health has deteriorated during the pandemic, strikingly less than the average answer 33 %.
"Those enrolled in integration programmes seem to be mentally better. My reading is because they have been attending online courses, which has added a routine to them, they have been somehow together, they have felt belonging to a group, that they are not alone. And possibly because they have been receiving information from their teachers or their supervisors," says Ari-Gürhanli.
67 % of those in integration programmes believed to receive enough information from Finnish authorities on coronavirus regulations and restrictions. In comparison to those who were employed and unemployed, those under integration program said they have adapted to the state of emergency and have been able to re-organise their daily habits better. While 19% of unemployed said they do not know where to get help if needed, the rate was only 8% among those under integration programmes.
The survey was conducted by MIOS project. The aim of the project is to strengthen mental health of immigrants and promote inclusion in Finland.