August 18, 2020 at 1:19 PM
The number of job vacancies fell by 30.45% in the second quarter of 2020, amid closures and tougher restrictions on economic activity caused by the coronavirus pandemic.
According to Statistics Finland's data, the number of open jobs was 35,400 in the second quarter, while the figure was 50,900 one year before.
Open job vacancies decreased particularly in the major region of Helsinki-Uusimaa (-8,300).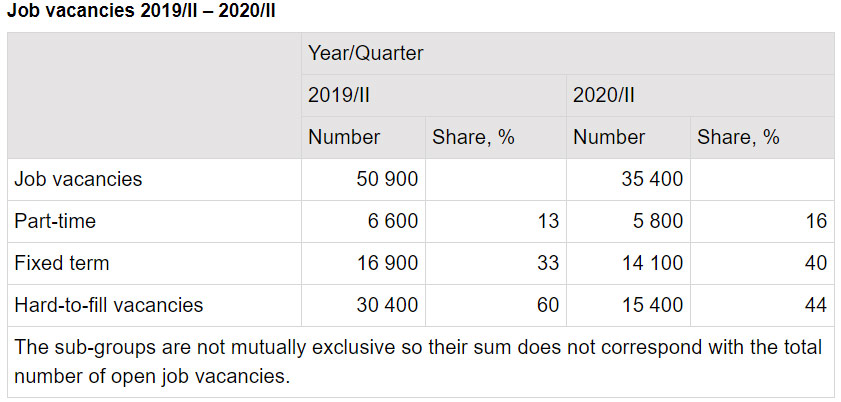 Source: Statistics Finland.
70% in private enterprises
In the second quarter of 2020, in all, 24,700 or 70% of the job vacancies were in establishments owned by private enterprises, while one year earlier the figure was 37,700, or 74% of all open job vacancies.
Job vacancies decreased compared to the corresponding period of the previous year in establishments of all sizes. Examined by the industry of the establishment, the number of job vacancies decreased most (-6,600) in the industry group of trade, transportation and storage, accommodation and food service activities.
In the second quarter of the year, 40% of all open job vacancies were fixed-term positions, while one year earlier the corresponding share was 33%.
Hard to fill positions
16% per cent of all open job vacancies were part-time positions.
Employers estimated that 44% of the open job vacancies were hard-to-fill, while the corresponding share one year earlier was 60%.
Compared to the previous year, recruitment difficulties experienced by employers decreased particularly in trade and manufacturing establishments. For example, establishments in human health and social work activities still had plenty of jobs considered hard to fill.