August 24, 2021 at 12:03 PM
The path of employment growth started in March continued this summer.
According to the latest Labour Force Survey, Finland ended the month of July with 86,000 more people employed than the previous year and with fewer unemployed on the jobseeker lists.
In July the total number of people employed in Finland was 2,639,000, which was 86,000 higher than a year earlier. There were 45,000 more employed men and 41,000 more employed women than in July 2020.
The employment rate , that is, the proportion of the employed among persons aged 15 to 64, stood at 74.9%, having been 72.6% one year earlier.
Data published by Statistics Finland also show that there were 202,000 unemployed in the Nordic country in July, 5,000 less than a year earlier. The number of unemployed men was 99,000 and that of women 103,000.
Unemployment rate
In July, Finland's unemployment rate stood at 7.1%, having been 7.5% one year earlier. From last year's July, men's unemployment rate fell by 0.5 percentage points to 6.7% and women's by 0.2 percentage points to 7.5%.
Unemployment among people aged 15 to 24 stood at 8.7%, which was 6.6 percentage points lower than one year previously. The share of unemployed young people aged 15 to 24 among the population in the same age group was 5.4%.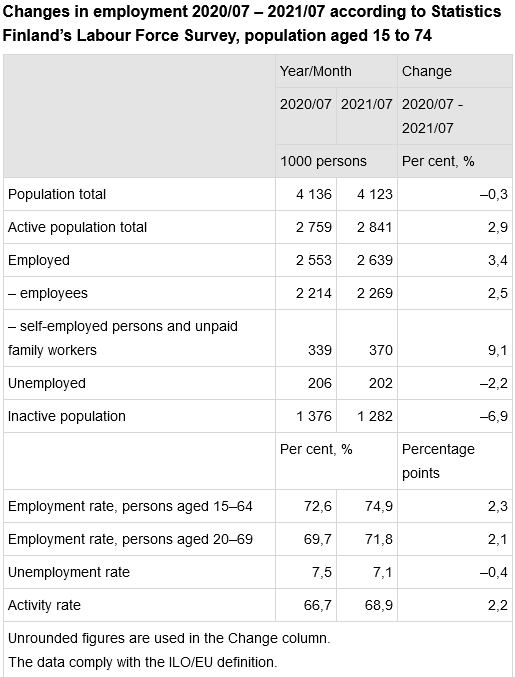 Source: Statistics Finland.
There were 1,282,000 persons aged 15 to 74 in the inactive population in July 2021, which was 94,000 fewer than one year earlier.