August 18, 2021 at 1:51 PM
The number of company bankruptcies is slightly decreasing in Finland so far this year.
According to fresh data from Statistics Finland, between January and July 2021 there were 1,447 bankruptcies, which is 23 bankruptcies (1.6%) less than in the corresponding period of the previous year.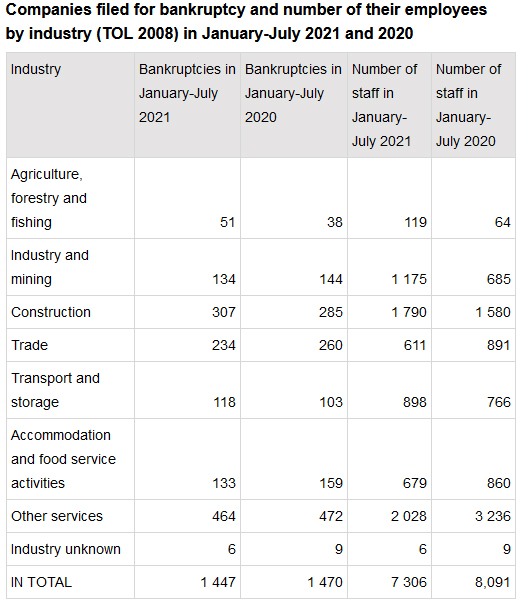 Source: Statistics Finland.
The total number of workers affected by these bankruptcies - measured in annual work per person - was 7,306, which means 785 (or 9.7%) fewer people than in the same period of the previous year.
The number of bankruptcies that decreased the most was in the trade sector (10%) and in accommodation and restaurant activities (16.4%). They also fell in other services, industry and mining.
On the contrary, where bankruptcy filings increased the most between January and July was in the agriculture, forestry and fishing sector (34.2%) and in the construction sector (7.7%). They also increased significantly in the transport and storage industry.
Compared to 2019
Compared to the same period in 2019, before the outbreak of the Covid-19 pandemic, the number of bankruptcies has decreased 6.8%.
In this biennium, bankruptcies have only increased in the other services sector, which includes information and communication services, professional, scientific and technical activities, administrative activities, educational services, health and social services and arts, entertainment and activities. recreational.
Filing for bankruptcy does not always mean that a business or professional is 'bankrupt' in the strict sense of the term. Bankruptcy litigation is a complex, multi-stage legal process in which the procedure can be interrupted and the business can be saved, for example after debt restructuring.