November 29, 2019 at 9:30 PM
Accidents at work have registered a sharp increase in Finland, according to the latest official figures available.
Over 138,146 accidents at work occurred in Finland in 2017. Of them, 30 resulted in death.
Statistics Finland remarked that occupational accidents "grew clearly" compared to 2016, when less than 132,000 of those incidents were recorded. The corresponding figure for 2015 was just over 127,000.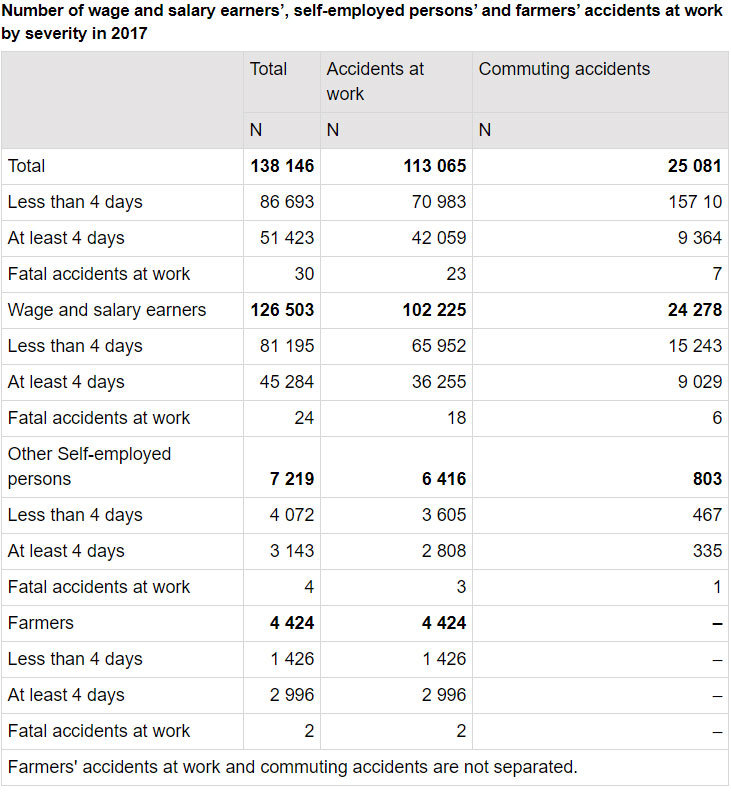 Source: Statistics Finland.
Most accidents suffered by employees
Of these 138,146 accidents recorded, 126,503 were suffered by wage and salary earners and more than 11,600 occurred to self-employed persons (including farmers).
The majority of all accidents at work, 113,000 cases, occurred at places of work or while in work traffic, whereas 25,000 accidents at work occurred while commuting.
These numbers also include minor accidents at work that led to disability lasting less than four days and on which insurance companies paid compensation only for medical treatment expenses.
Fatal accidents
In 2017, a total of 30 persons died at the place of work or while commuting. Of these fatal accidents at work, 24 occurred to wage and salary earners, two to farmers and four to other self-employed persons.
In addition, seven fatal accidents took place while commuting, of which six occurred to wage and salary earners and one to other self-employed persons.
The number of fatal accidents at work decreased from the year before, as in 2016 a total of 46 persons died at work or while commuting.