January 28, 2020 at 3:16 PM
Finland's president, Sauli Niinistö, expressed concern about the anti-Semitic attacks carried out in Turku and Tampere by neo-Nazi groups.
On Monday 27 January, while the world commemorated Holocaust Remembrance Day and the 75th anniversary of the liberation of the Auschwitz-Birkenau death camp, a group of vandals threw boats of red paint against the facade of the Turku Synagogue.
Just 150 kilometers from there, in the city of Tampere, a neo-Nazi group burned an Israeli flag in the street.
"Turussa synagogaan kohdistunut ilkivalta on ehdottoman tuomittavaa. Rasismille ja antisemitismille ei tule antaa tilaa. Olemme kaikki vastuussa siitä, ettei pahuus arkipäiväisty ja leviä. Olemme sen velkaa myös tuleville sukupolville."
- Presidentti @Niinisto

— TPKanslia (@TPKanslia) January 27, 2020
"In Turku, the vandalism of the synagogue is absolutely unacceptable. Racism and anti-Semitism should not be given space. We are all responsible for ensuring that evil does not become commonplace and spread. We owe it to future generations," the Finnish President wrote in his Twitter account.
#Auschwitz75 | @Niinisto pic.twitter.com/6GTYSuQQ94

— TPKanslia (@TPKanslia) January 27, 2020
According to the Finnish National Broadcasting Network (Yle), the Central Finland Police Department said on Tuesday that the flag-burning incident is being investigated.
Responsibility assumed
In the Internet, a neo-Nazi group called Kohti Vapauta ('Towards Freedom') has assumed the responsibility of the flag-burning. On their website, the group describes their performance as 'Holocaust activism' and boasts of having organized a rally in Tampere on the occasion of this anniversary.
According to YLE, the police were present, monitoring the protest, but did not detain anybody because in Finland only burning the Finnish flag is punishable.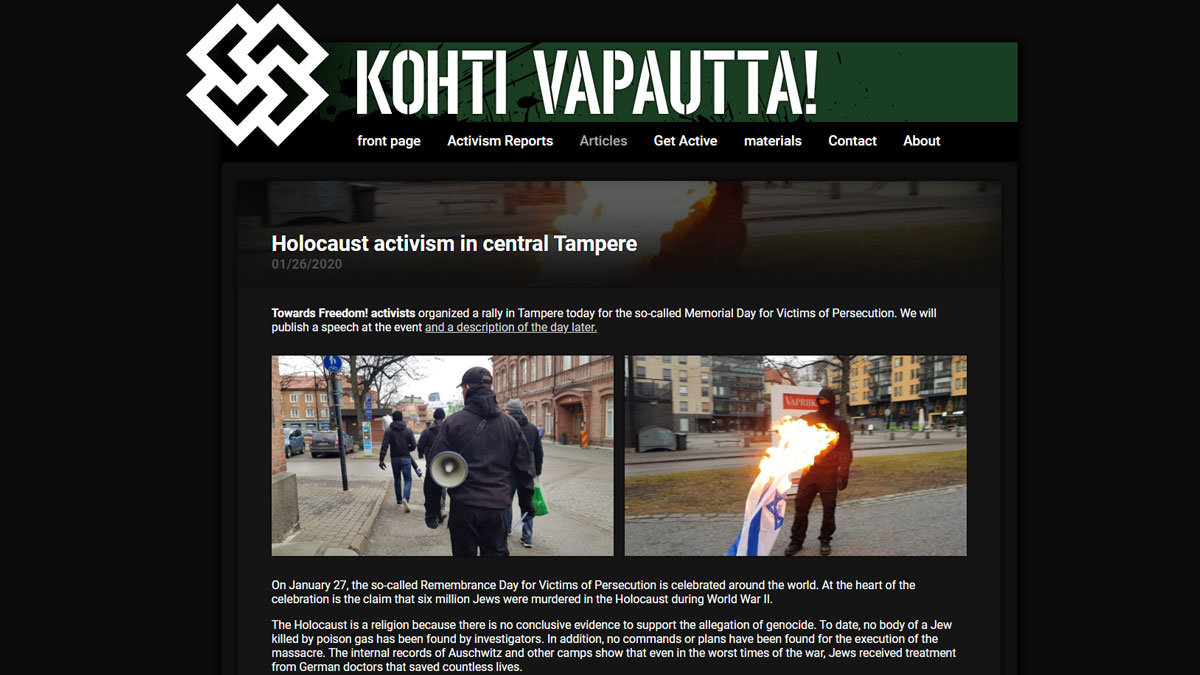 Image: screenshot of the website (translated into English) of the neo-Nazi group Kohti Vapauta.
The group has uploaded several photographs of the incident to its website.
They accompany the images of a text (in Finnish) in which they openly deny the murder by the Nazis of 6 million Jews in the gas chambers.
The group claims that there is no scientific evidence of the massacre. Furthermore, they argue that Auschwitz's "internal records" would "show that even in the worst times of the war, Jews received treatment from German doctors that saved countless lives."
'Towards Freedom' is considered by the police as a substitute of the neo-Nazi 'Nordic Resistance' (PVL), over which the Supreme Court imposed a temporary ban in March last year. Last December, this fascist group tried to organize a march through the center of Helsinki on Finland's Independence Day.