November 14, 2020 at 10:03 PM
In Finland, the probability that a woman's first marriage ends in divorce was 38% in 2019, which is one percentage point higher than in the previous year. However, the figure for 2019 was on level with that for 2005 to 2017, when it varied between 38 and 40%.
One interesting fact, according to Statistics Finland's data on changes in marital status, is that a first marriage ending in widowhood is still slightly more probable than the marriage ending in divorce.
The overall picture is that since the 1990s, the divorce rates by the duration of marriage are very similar and are thus not dependent on the year in which the marriage was entered into. For example, of the marriages entered into in 1990 to 2010, one-fifth had ended in divorce by the ninth year.
However, in recent years there has been some indication that the divorce rate during the early years of marriage might be decreasing slightly. For example, 4.7% of the marriages entered into in 2014 ended in divorce in the third year of marriage, while the share for marriages entered into in 2016 was 4%t and that for marriages in 2017 was 3.7%.
Risk highest in third or fourth year
Still, the risk of divorce has been at its highest in the third or fourth year since 1990. After the peak for divorcing is reached, the risk of divorce decreases very similarly in all marriage cohorts.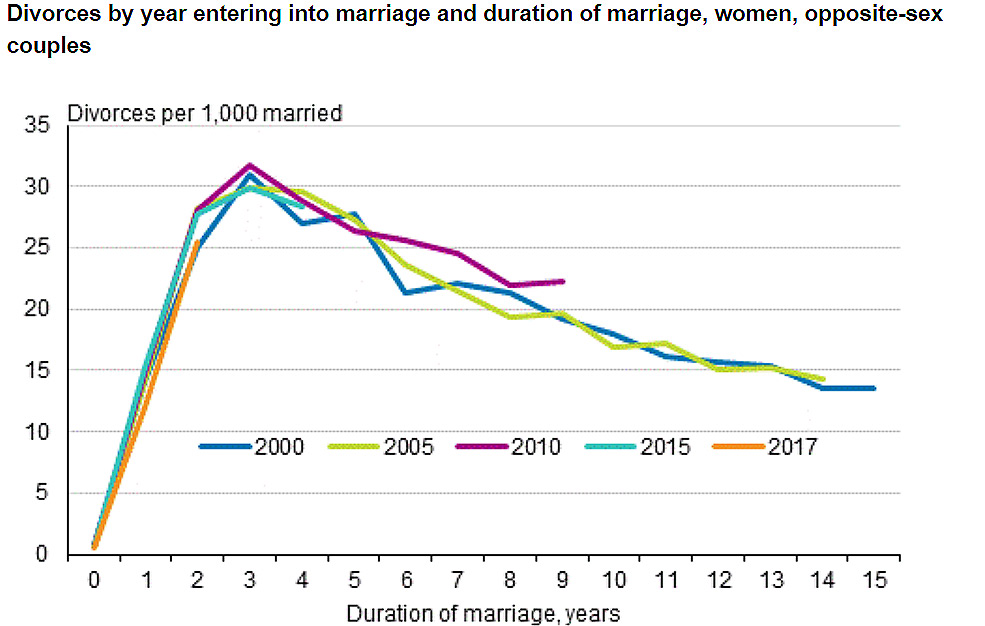 Source: Statistics Finland.
Marriage rates decreasing
According to Statistics Finland, the marriage rate has decreased considerably over around a decade. In 2008, a total of 32,900 marriages of opposite sex were entered into, but in 2019 only 21,900.
The decrease in the marriage rate slowed down in the mid-2010s but in recent years the decrease has further deepened.
This has been particularly due to the fact that the number of first marriages entered into has fallen more and more from one year to the next. If the marriage rate of first marriages for 2019 was prevailing, one-half of unmarried men and 55% of unmarried women would enter into marriage before the age of 50.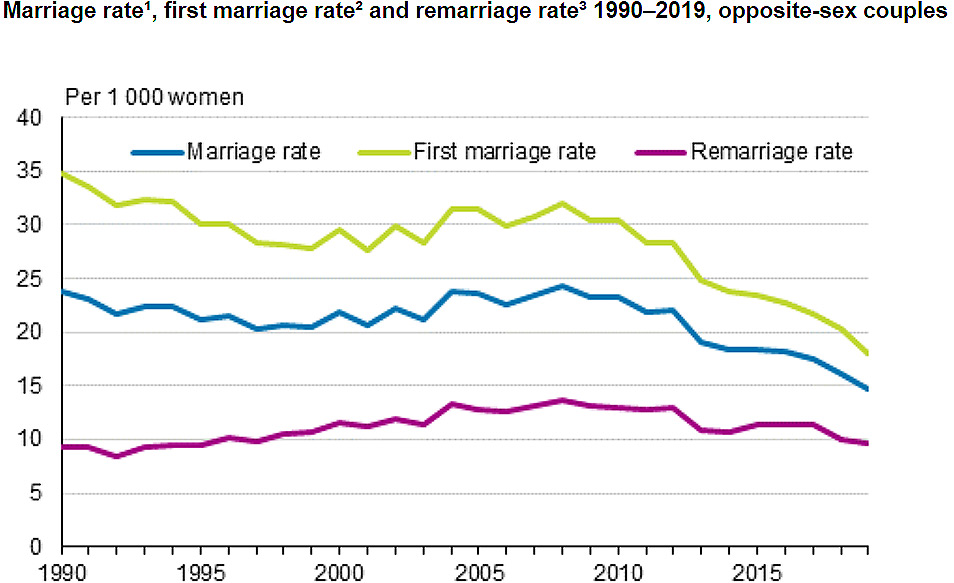 Source: Statistics Finland.
The decrease in the remarriage rate has been slightly more moderate in recent years compared to the rate of first marriages. While the rate of first marriages decreased by 22% from 2015 to 2019, correspondingly, the remarriage rate decreased by 16%.
International marriages
The overall decrease in the marriage rate in the whole country was also visible in the drop in international marriages from 1,547 to 1,386 from 2018 to 2019.
In all, 6.8% of women of Finnish background living permanently in Finland got married to a man of foreign background in 2019.