The Finnish Immigration Service (Migri) has compiled a list of countries whose passports it considers unreliable, so further investigation is needed to prove the identity of the holder.
The list, which includes 6 states in Africa and 4 in Asia, has been posted on the immigration agency's website, linked to a customer bulletin reporting a significant backlog in processing citizenship applications.
"On its own, a passport from one of the following countries is not enough to determine a person's identity; instead the Finnish Immigration Service needs to perform more investigations: Afghanistan, Iraq, Gambia, Ghana, Cameroon, the Democratic Republic of the Congo, Nigeria, Pakistan, Somalia and Syria," Migri says in its website.
According to the Finnish Immigration Service, the processing of an application may take longer than estimated if the applicant has presented a passport of a country included in the above list of states whose documents are not considered reliable.
"The reliability of a passport in the establishment of identity may be deteriorated by deficient personal data registers or corruption in the country granting the passport, for instance," Migri says in its website.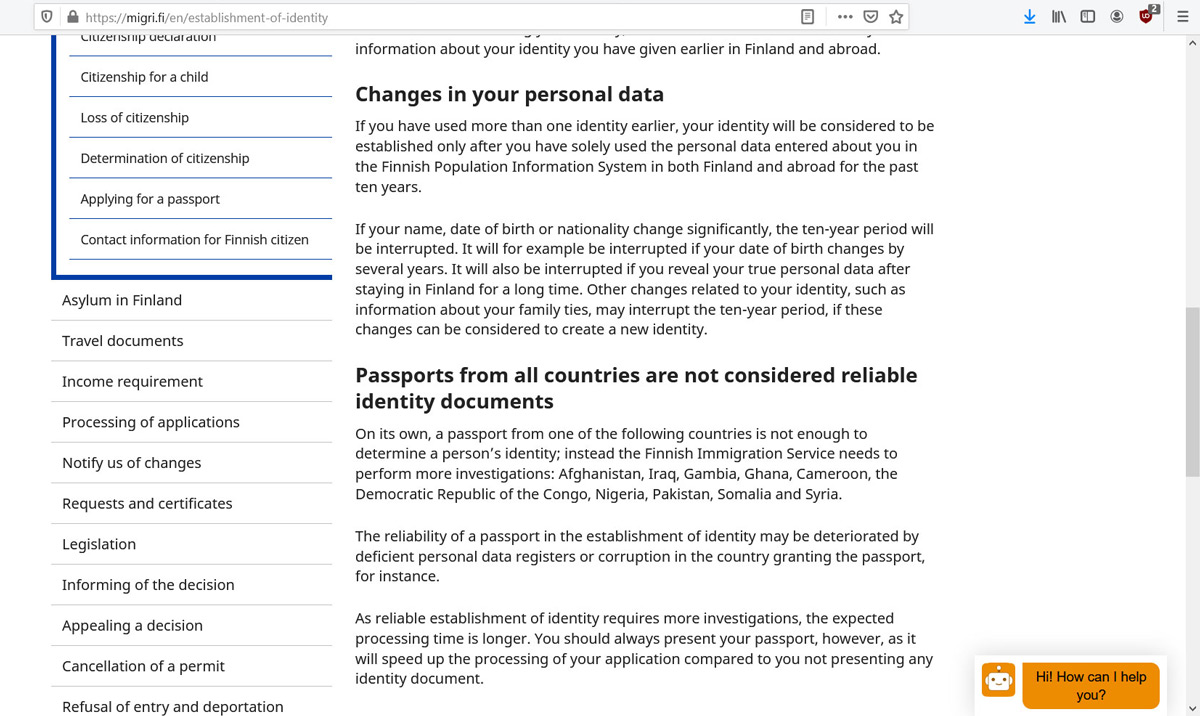 Image: screenshot from Migri's website.
Pending applications
The immigration agency has accumulated 8,786 citizenship applications pending processing.
In its latest customer bulletin, Migri admits that "there is a backlog" in the processing of these applications, which is worse in the case of those that require further clarification.
"We are able to process fastest applications where the customer has come to Finland with a permit obtained in advance, the customer has a national passport and the general prerequisites for the granting of citizenship are met," Migri says.
Migri also blames this backlog on the coronavirus outbreak, restrictions and a lack of sufficient staff. According to the agency, this year it has needed more employees to process urgent applications for residence permits, which has led to a lack of staff in the processing of applications for citizenship.