December 8, 2020 at 9:50 AM
Finland's foreign sea transport decreased by 2% in October 2020 compared to the same period of 2019. The goods volume of foreign sea transport was in total 8.4 million tons.
According to Statistics Finland, the drop was especially noticeable in the case of imports of foreign products, which decreased by 4% and amounted to 3.9 million tons. Maritime exports of Finnish products, on the other hand, fell only 0.2% and were 4.5 million tons.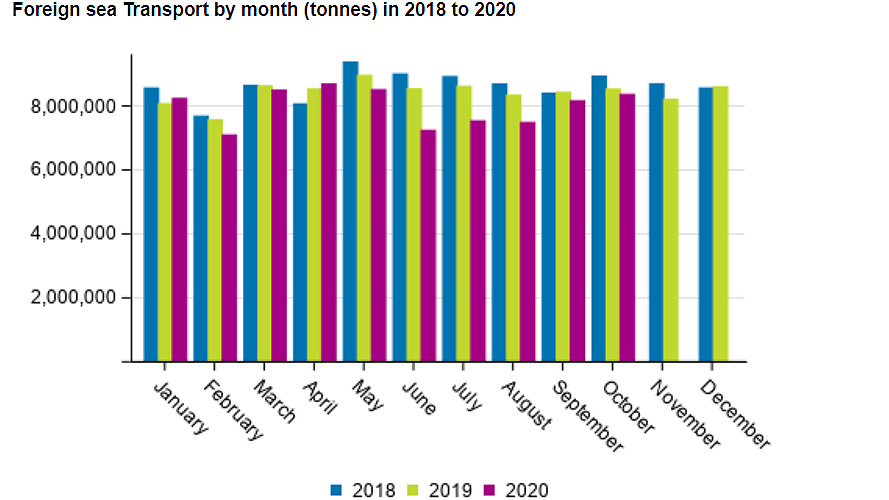 Source: Statistics Finland.
General cargo was transported most, in total 1.5 million tons, which is 18% of all transport. The second most transported was oil products, 1.2 million tons, and crude oil, 0.8 million tons.
Container transport
A total of 1.1 million tons of containers were transported through Finnish ports in October 2020, which is 6% than in October 2019.
The number of containers transported was 73,266 (131,770 TEU containers). Exports of containers went down by 5% measured in tons and imports went down by 9% compared to October 2019.
Vehicle transport
A total of 195,559 transport equipment were transported in foreign sea traffic in October 2020.
Most transports of transport equipment were passenger cars belonging to passengers. In October, 94,744 passenger cars were transported. The second most transported were trucks, 58,362 and truck trailers, 39,281.
Passenger traffic
A total of 363,706 persons were transported in passenger traffic in October (-76%). In all, 204,560 persons travelled between Finland and Estonia and 154,317 persons between Finland and Sweden and 4,829 passengers between Finland and Germany.
Passengers made up only 24% of the number of passengers in October 2019. In October 2020, no passengers of foreign cruise ships arrived in Finland.
Saimaa Canal
A total of 136,192 tons of transport were registered through the canal in foreign traffic. Timber was transported most in vessels in foreign traffic, in total 67,023 tonnes.
The second most transported was crude minerals and cement.