Job vacancies in Finland decreased in the first quarter of 2021 compared to the situation a year ago.
According to Statistics Finland data, the number of job vacancies was 59,500 in the first quarter, while the figure was 63,300 one year before.
Examined by the field of work, job vacancies increased in the industry group of information and communication services, mainly in computer programming. They decreased most in the industry group of trade, transportation and storage, accommodation and food service activities.
Employers estimated that 44% of the open job vacancies were hard-to-fill, while the corresponding share one year earlier was 48%.
For example, there were still plenty of jobs considered hard to fill in establishments of human health and social work activities, in practical nurse jobs and in early childhood education.
In all, 43,100 or 73% of the job vacancies available were in establishments owned by private enterprises, while one year earlier the corresponding share was 69%. Compared with the same period of the previous year, the number of open job vacancies decreased especially in the local government sector (-4,500) and in establishments with 10 to 49 employees (-9,000).
Examined by region, the number of open positions decreased most in the regions of Northern and Eastern Finland.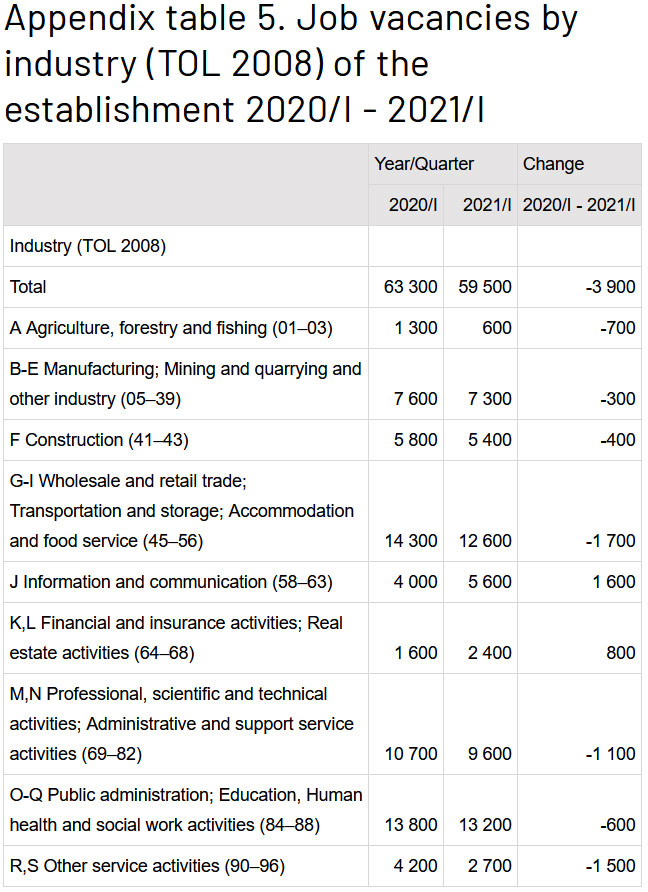 Source: Statistics Finland.
Fixed-term jobs
In the first quarter, 45% of all open job vacancies were fixed-term jobs. The share of fixed-term jobs is usually high in the first quarter due to the search for summer employees, Statistics Finland points out.
For example, there were plenty of fixed-term vacancies in trade and in health and social work activities.
The share of part-time jobs in all open job vacancies was 19% per cent, unchanged from one year before.