July 19, 2019 at 11:04 PM
Rafael Scapini de Almeida, Rafinha, (Campinas, Brazil, 1982), is one of the most successful among the foreign professionals playing in the Veikkausliiga, the premier division of the Finnish football. In his record, he has four Finnish leagues won with Helsinki's HJK and also two Cups of Finland.
Rafinha came to Finland in 2005 to play in the second division with AC Oulu. Since that time he had a rising and successful career: from Oulu he went first to Tampere United, and then to HJK, the club he left temporarily in 2011 to play in Belgium with KAA Gent. In Belgium he won the national league in 2015 and he also made true his dream of playing the Champions League. In 2016, he returned to HJK, where he was the captain for two years and still plays either as a right or central defender.
In the meantime, he integrated in the Finnish society: he started a family with a Finnish woman and he also learned the Finnish language.
Rafinha agreed to speak with Foreigner.fi a couple of days before two decisive matches for HJK, in the National Championship against Ilves (Saturday, 20 July) and in the qualifying round for the Champions League against Belgrade Red Star (Wednesday, 24 July).
Now, when he is also facing the final stretch of his professional career (he is 37 and his contract with HJK will expire this season) he reveals in this interview his plans for the future, but he also talks about more complicated issues such as the difficulties to integrate in Finland for foreign football players.
-QUESTION: Let us go back to 2005, when you came to Finland for the first time. How did that happen?
-ANSWER: My dream had been always to be a professional football player but by that time in Brazil I felt my chances were over. In Brazil you have to start really early in a football academy and then go on. I had lost my chances when I left the academy by my own decision because of school and to live closer to my family. I could not go back, I was working and playing football in amateur level in the weekends. Then I got this opportunity to come to Finland for a trial period. It was a new chance to follow my dream and become a professional player.
-Q: But Finland was at that time a strange destination for a Brazilian player. Who discovered you for Finnish football?
-A: By that time there was this player called Luiz Antônio, who was quite famous in Finland. A good friend of him who was managing the club AC Oulu at that time, went to visit him in Brazil and asked him to organize a football game. Luiz Antônio had a friend in common with me with whom I was playing this amateur league. This guy asked me to go to play that game and that was the game where they offered me to come to Finland for two weeks.
-Q: Before that game, did you imagine they could make you such an offer?
-A: Yes, I actually knew the game was for that. But it was not easy because it was organized in another city, I was working and I had to ask for a day-off from my boss to go. I went with a friend and when we arrived there we saw there were about other 50 boys to play, so we almost left. Luckily, the friend I had in common with Luiz Antônio convinced us to stay and to play the match.
-Q: Which was your job by that time?
-A: I was working for the logistics department of the University Hospital of my city, Campinas (Southeast of Brazil).
The arrival
-QUESTION: What was your first impression upon arrival?
-A: I remember it was March, in Oulu, it was very cold and full of snow. It was the first time in my life I saw the snow. People had warned me in Brazil, so I had bought the best winter clothes I could find there, but when I arrived in Oulu I realized it was all for nothing. Those Brazilian clothes would not keep me warm. Otherwise, at the beginning I was quite busy, we had to train twice a day and everything was new for me.
-Q: Where there other foreign players?
-A: I had come with another player and when we arrived in the team there were two other Brazilians who spoke Finnish fluently. Those guys helped us a lot.
-Q: Finland and Brazil are very different countries. Was it hard to adapt here?
-A: Of course it was hard. It was difficult to be away from my family and friends, but I had a dream and I knew it was my only chance to make it real, so I was very excited. Actually, the first year was not the hardest. The worse for me was the second year, when those Brazilians who helped me at the beginning were not around anymore. They had left, I was by myself and then it was the first time I really started to get shocked.
-Q: Shocked? Why?
-A: For being alone. The first year everything had been nice, so many new things, the Brazilian guys were around... then the second year the reality was coming through: I had to be alone and live by myself.
-Q: Loneliness, that is a hard and common issue, for Finns too.
-A: Yes, and I have to say I was lucky. There were two Finnish families in Oulu who took care of me as their son and helped me a lot. In the bad times I had someone and somewhere to go.
The professional shock
-Q: How about the Finnish football? Did you find many differences compared to what you had experienced before?
-A: Yes, in that sense the first two weeks were difficult. I could not speak Finnish or English, so I needed someone to translate and sometimes I could not understand the instructions or the exercises. If we talk about football, here I found a totally different culture: in Brazil and probably in other countries like Spain we do a lot of things with the ball. But here everything was about running like hell, because Finns do a lot of work without the ball. So, training was quite difficult, I did not understand much and I was on a trial period. After one week, someone told me: "You are not good enough for us, probably you will have to go home".
-Q: But they never sent you home...
-A: No, and even though the boss told me once on my face: "You are not staying", I finally did. Another Brazilian guy asked the boss to wait to see me playing a real game. After I played that game, the club told me: "No, you are not going anywhere, you are staying with us".
-Q: So, how was the football that Finns played then?
-A: Well, it was more direct and physical than I thought. For me it was kind of difficult to adapt because I wanted all the time the ball and to do things with the ball. In most of the matches I did not have the ball and I just had to run, so for a Brazilian it was difficult to understand this mentality. Football is a sport, but it can be played in many different ways, and with my way of thinking and acting in the field it was very difficult to adapt.
-Q: When did you start to feel comfortable?
-A: It took a long time that they understood how I played. Also there was a misunderstanding because then I used to play as a winger (extreme attacker) and here they understand that when the winger has the ball, he has to kick it forward and put it in the box. But when I had the ball I was dribbling my opponents and then giving back passes. At some point the striker was mad at me, he complained he would never score because I never gave him the ball. But the number 10 told me: "Do not listen to him, now I am the one who is going to score because I understand how you play". When I started to give good results, everything was fine.
-Q: So, AC Oulu had to change their system because of you?
-A: I would not say they had to change the system, they would never do that, but certainly they had to adapt to my way of playing.
Photo: © Foreigner.fi.
A rising career
-Q: Since 2005 your career has been rising and successful. AC Oulu, Tampere United, HJK Helsinki, KAA Gent (Belgium), the Champions League... and then back to HJK. Are you aware that you have got everything that most of the foreign players can only dream about?
-A: Yes, I know the difficulties they go through, especially some foreigners who come here to play in the second division. I also know it is a long way to do what I did. So, yes, I am very pleased of what I have achieved, but also very thankful. Still, I have to say that all this is like being a foreigner. If I had been born here, it would have been easier to do the things I did.
-Q: Do you really believe so?
-A: Yes, for sure. I have to say that in the beginning some people in the press always were writing bad things about me and I don't know why. That changed when I started to win and to achieve things.
And even now, when I look around and I meet people for example like you, telling me that my career was good and rising all the time.... I know it was like that, but still here some part of the press they do not accept it.
-Q: And do you think this is because you are a foreigner?
-A: Sure.I think with the career I have had if I wouldn't be a foreigner I would get more compliments. I do not care because I know myself and I know that I did fine, but this is why I said I know the difficulties that foreigners go through.
-Q: Is it the same for everybody?
-A: Right now I know that when foreign players do not perform well the press always say something. If it is the same with a Finnish player, they would not say the same things, they would not be so negative.
-Q: Is that the reality?
-A: Of course, that is clear. I try to tell the foreigners the reality: "They expect that you guys should be better than the locals and they are gonna criticize you, but just focus, go on, don't listen to them and try to understand that they do that because they used to do that for a long time".
Family ties
-Q: You have been linked to this country for 14 years. And you also have created a family here. How did that happen?
-A: It was something natural. I met my wife during the first year in Oulu. She was from Oulu but at that time she was studying in Rovaniemi. Three years later, when I moved to Tampere, she came with me to live, and after that we had our first boy. Then she also moved to Belgium with me. It was not planned, it just happened.
-Q: Did she adapt well to be the spouse of a football player?
-A: When we met she told me that for her it was no problem to live away from Finland. For a while it was like this, but it was not fully like this (laughs). Actually, I wanted to stay in Belgium a little longer because I really enjoyed my time there. Belgium is a good country for playing football, and that was the top of my career as a footballer.
-Q: So, why did you come back?
-A: Kids needed to start at the school, I was facing the end of my career and it was a time I could come back. But if it would had been only my decision, I would had stayed.
-Q: What about the club (Gent)? Did they want you to stay?
-A: Yes, they did.
-Q: But when you came back from Belgium, you told the Finnish press that you were coming home...
-A: The home of my family is my home. Once you have a family you have to think what is the best for the family. I wanted to give an opportunity to my son and daughter to base in one place and to get their own friends and have a life, not to be moving around to a different place every year. I don't think it was good for them. If I would not have my wife and kids here I would already live in Brazil, the main reason for me to be here is my family.
-Q: I guess Finland has also some advantages to offer...
-A: Yes, for sure. Finland provides the best for the kids: security, a safe environment, good education... if you have a family it is perfect to be here for all those reasons.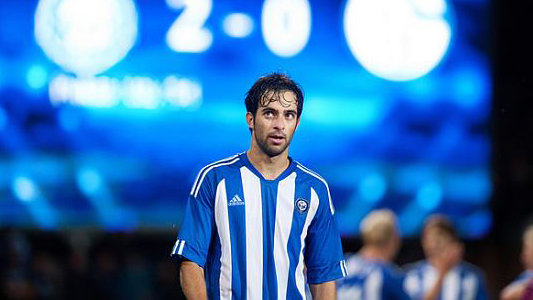 In 2011, during a match against German Shalke 04. Photo: Jussi Eskola, provided by Rafinha.
The Champions League
-Q: A few years ago, the Finnish press speculated you would apply for the Finnish citizenship and play with the national team. Did you ever consider that option?
-A: Not by the time it was in the news. My dream was not to play for the Finnish national team, but to play at the highest level I could. At that time I had two choices: to stay in Finland, to apply for the nationality and go to the national team or going to Belgium to try to make a career there. For me it was very easy to decide what option I had to follow. I was 29 years old already and that was probably my last chance to go abroad to a good football country.
-Q: So, did you play for all or nothing?
-A: Normally, the path for someone who plays in Finnish football is to get to Sweden or Norway and then from there maybe to a bigger football country. I had the chance to go straight to a big club in Belgium, so for me there was no discussion. The coach of of the Finnish national team was saying that perhaps he would like me there, but my priority was to play abroad.
-Q: And you did. Many players would sacrifice half of their lives just for a few seconds running the filed on a Champions League match.
-A: I had the same feeling when I played for the first time against Lyon. It was just two minutes by the end of the game, but when I stepped into the field I thought: "Now I can say I played in the Champions League, even though it was just for two minutes". Luckily, in other games I got more playing time but those first two minutes meant everything for me.
-Q: Are you grateful to Finland, that made it possible?
-A: Yes, I am very thankful to Finland and also to HJK, that let me go. They had no reason to do it because they had sold many players at that transfer window and they did not need the money. Actually I was important for them at that time, but they understood my dreams and that it was my last chance.
The integration in Finland
-Q: Do you speak Finnish?
-A: Yes.
-Q: How did you manage to learn?
-A: I started ten years ago, when my son was about to born. I was in Tampere and it was November. Normally at that time I would had been in Brazil for holiday, but that year I could not go because of the child birth, so I took some lessons. I learned the basics and later I also learned a lot with the help of my wife and the kids, while they were growing up. If you have children and listen all the time at how they learn, then you learn with them.
-Q: After learning Finnish, did you notice any change in the attitude of the Finns towards you?
-A: Yes. Once they know you speak the language it is easier for them to approach you. They also feel more comfortable, even though most of them can speak English.
-Q: Do you consider it important for integration?
-A: I think once you are living here you should try. Of course it is a difficult language and you are not going to learn it in a couple of months, it will take some time. But even with a few, simple things -when you say good morning or ask someone how are you- you earn a lot of points. Finnish people appreciate a lot that you come to their country and try to learn their language.
-Q: Would you say Finland is an easy or a difficult country to integrate?
-A: In a way it can be easy, but it depends on what you are coming to do here. If you just come with a backpack to stay, without knowing people and without any information, I would say it is very difficult. But if you come with a purpose, if you have a job or a place to study, I think it is easy. Sometimes I read in Facebook about people willing to come here who ask if it is easy or difficult. If I had to give an advice, I would tell anyone that if they don't have a job or a place at school, then don't come because it is going to be hard.
-Q: Did you ever feel integration difficulties or discrimination?
-A: For me to integrate was easy. But of course if you are a foreigner at some point you will be discriminated. It is not a problem of Finland, I saw discrimination in Brazil, Belgium and everywhere by a small part of people that perhaps do not have all things right in their lives. I do not take it as it is the country, it is something personal, caused by individuals.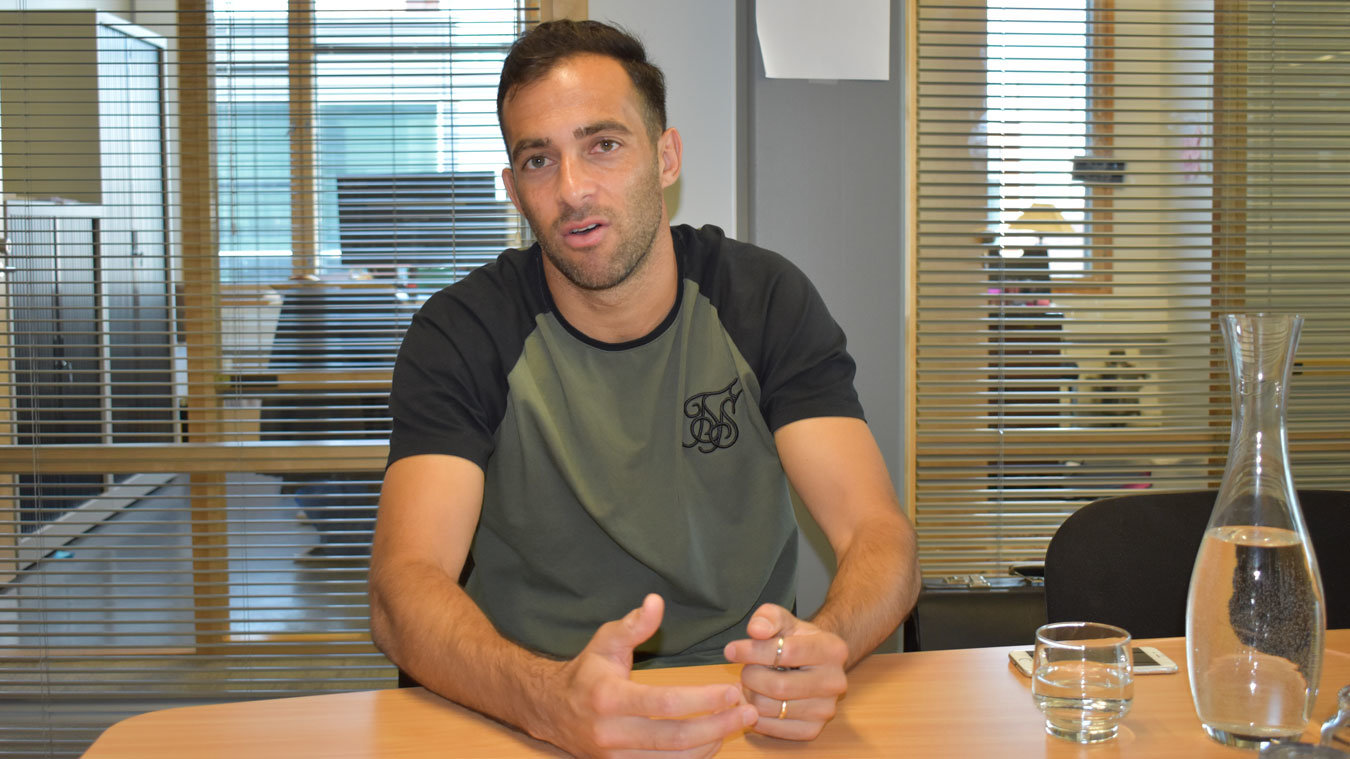 Photo: © Foreigner.fi.
The future
-Q: Once you said you wanted to be a bridge builder between foreign players and Finns. Why?
-A: Because I know the Finnish culture, I understand the language and I have been myself a foreigner here. I sometimes try to help foreigners to integrate in the Finnish way of life, for example I explain them the importance that here has to respect the rules and all that. Also in the club where I play I try to do the same with Finnish people. I ask them not to judge the players too fast because for someone with a different background the same situation may feel completely different. I make them understand that if someone does something in a different way it is because in his home country he always did it like that. It is not about being good or bad. In a word, I try to help both sides to understand the other. I wish people did not judge so much.
-Q: Why do you think Finnish football has not yet made it to the top, as other sports?
-A: I would say that Finnish people are very smart and they have more options than other people from other countries. I mean more options than being a footballer. For example, in Brazil it is normal that if you used to play football you are going to try to become a coach. But here you don't see so many good ex-players being coaches, there are some but I think there could be more.
-Q: Is it a matter of motivation?
-A: I don't know if motivation is the right word. For example, in Brazil for the people of my generation once you were born the first thing you thought was to play football, then you prepared and went for it, there was nothing else around. Maybe it is easier when there is only one way to try to achieve your dream. But in Finland you have much more options and I have seen many young boys who stopped playing because they wanted to study or to do other things. Once you have more options -and Finland provides people many opportunities to do other things- they don't put so much energy in this primary dream.
-Q: You are 37 years old and you are approaching the end of your career. Which are your plans for the future?
-A: I will stay in Finland at least until the kids have their own lives and go away from home. I know it is not gonna take so long, because in Finland they do it so quickly. I hope that they will learn something from the Brazilian way of living and they will stay at home longer, even though my wife wouldn't like it (laugh).
-Q: And professionally?
-A: I would like to become a coach. I did the UEFA B course, so now I have the licence to coach teams of players until 16 years of age, I am making a plan for at least two years, I will try to find a place to be a coach and in the meantime I will try to study more and to develop myself. And if it happens to not be the thing that I want, I will have to find something else to do.
-Q: So, are you planning to retire by the end of this season, when your contract ends?
-A: No, no, no... I am one of the players that played the most this year and physically I am feeling good, so for me there is no point to stop playing now. I do not want to retire.
-Q: Are you negotiating with the club to continue?
-A: Right now I haven't got any proposal, but it is not my plan to quit this year. I am willing to continue but I need a place to play. If it is not in Helsinki, we will see what comes.
HJK, Ilves and Red Star Belgrade
-Q: HJK just hired attacker Tim Väyrynen. What do you think he will provide at this point of the championship?
-A: Until now the strikers we had have been kind of unperforming, but I do not know if it was their fault. There was a point that the whole team was unperforming. I hope he can provide the goals we have been lacking in that position. But I also hope the team can help him, because maybe we didn't help the other guys. I don't think it is only their fault that they didn't score.
-Q: Is the team still going through a crisis?
-A: We went through a crisis, but not right now. We have been playing better and collecting points. We had to change the coach and when a club gets to this situation it is also the fault of the players. Things now are going better and on Saturday, when we beat Ilves we will be again on the fight for the championship.
-Q: So, you still think you have possibilities to become champions?
-A: I think so, specially if we beat Ilves this weekend.
-Q: How are you facing this match in Tampere?
-A: It is always nice for me to play there because I used to live in Tampere. I always succeded to play there and I think I never lost a game there, so I will bring this positive thinking and I think we are gonna win the game.
-Q: And what do you expect will happen next Wednesday in Belgrade against Red Star?
-A: We are gonna play the first game away. They are well known for being very good at the home games. They beat Liverpool and draw with Napoli last year in the Champions League. So, I think our priority is to get a good result there, a result that will give as a chance to surprise them at home, because at home we have been always very strong in the European games.