October 29, 2020 at 8:45 PM
The Interior Minister, Maria Ohisalo, added her voice on Thursday to that of European political leaders and millions of anonymous people who expressed their rejection of the jihadist attack that has struck the French Republic again.
Ohisalo, responsible for Finland's homeland security, was at the time of writing this article (a little after 19:00) the only leader of the 5 parties that make up the Finnish government to express strong words of rejection against the brutal murder of 3 people in a Catholic church in Nice at the hands of a Islamist terrorist, who also injured at least 6 other people.
The Interior Minister, who described the attack as a "terrorist crime," also said that "the fight against terrorism and the prevention of extremist activities is our global goal and common challenge."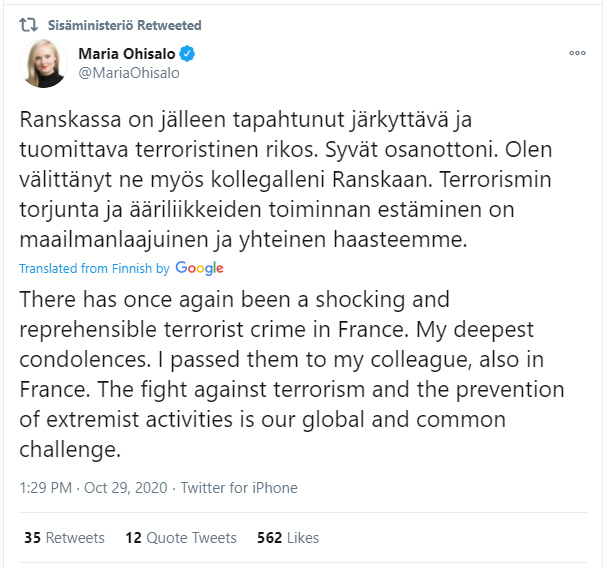 The official Twitter account of the Ministry of Foreign Affairs also published a few words of condemnation from the head of the department, Pekka Haavisto.
FM @Haavisto: I condemn today's attack in Nice like any act of terrorism. I pay tribute to the victims and express my deepest condolences to their families and loved ones. #Nice

— Ulkoministeriö (@Ulkoministerio) October 29, 2020
Also the Defense Minister, Antti Kaikkonen, wrote on Twitter that freedom of expression is "one of our core values" and asked not to give space to "extremists who incite violence."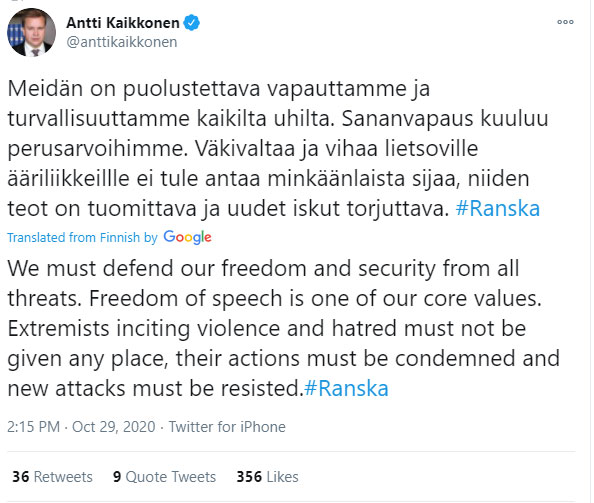 Marin remained silent
Precisely, on Thursday, the Finnish Intelligence Service (SUPO) published its latest assessment of the national security situation and alerted about the terrorist threat - from jihadist and far-right groups - on the country.
Prime Minister Sanna Marin, usually very active in Twitter, and the leaders of the Center Party (Keskusta), the Left Alliance (Vasemmistoliitto), and the Swedish People's Party (RKP) had not written anything in their respective accounts at the time of writing this article. And the Finnish Government did not issue any statement condemning the attack through its central press and communication services.
A few days ago, following the recent beheading of a teacher in the outskirts of Paris, the President of the Republc Sauli Niinistö published also a strong message in which he claimed to stand "in full solidarity" with French President Emmanuel Macron in defense of European values ​​and in the fight against terrorism.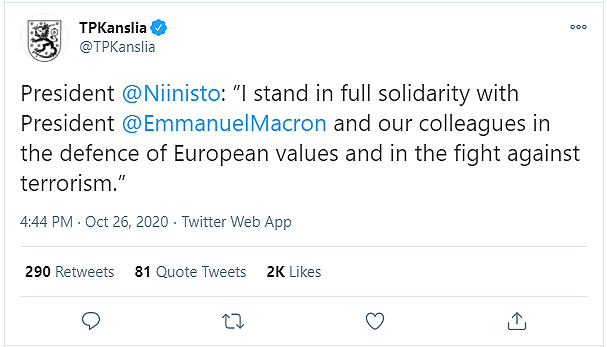 European solidarity
European leaders such as the German Chancellor Angela Merkel; the President of the European Commission, Ursula von der Leyen; the President of the European Council Charles Michel; the British and Spanish Prime Ministers, Boris Johnson and Pedro Sanchez issued messages of condolence, rejection of terror and in defense of freedom.
L'Union européenne exprime sa solidarité avec la France et le peuple français.

Les attaques perpétrées en France ce matin sont des attaques contre la Démocratie et les libertés.

Nous devons tous nous lever pour défendre ces valeurs qui nous rassemblent.#Nice06 pic.twitter.com/UAZnGqmCKC

— Charles Michel (@eucopresident) October 29, 2020
I am appalled to hear the news from Nice this morning of a barbaric attack at the Notre-Dame Basilica. Our thoughts are with the victims and their families, and the UK stands steadfastly with France against terror and intolerance.

— Boris Johnson (@BorisJohnson) October 29, 2020
"Atrocious, brutal"
"I condemn the atrocious and brutal attack that just took place in Nice and I wholeheartedly support France. My thoughts are with the victims of this heinous act. All of Europe stands in solidarity with France. We remain united and determined in the face of barbarism and fanaticism," the President of the European Commission wrote in Twitter.
Je condamne l'attaque odieuse et brutale qui vient de se dérouler à Nice et suis de tout cœur avec la France. Mes pensées vont aux victimes de cet acte haineux.

L'Europe tout entière est solidaire avec la France. Nous restons unis et déterminés face à la barbarie et au fanatisme

— Ursula von der Leyen (@vonderleyen) October 29, 2020
"We will continue to defend freedom, our democratic values, the peace and security of our citizens. United in the face of terror and hatred. My affection and solidarity with the victims of the attack perpetrated today at the gates of the Notre-Dame church in Nice," Spanish Prime Minister Sánchez said.
Seguiremos defendiendo la libertad, nuestros valores democráticos, la paz y seguridad de nuestra ciudadanía. Unidos frente al terror y el odio. Mi afecto y solidaridad con las víctimas del ataque perpetrado hoy a las puertas de la iglesia de Notre-Dame en Niza.

Nous Sommes Unis.

— Pedro Sánchez (@sanchezcastejon) October 29, 2020
In addition, the governments of Russia and Turkey also expressed their condolences to the French government in separate statements.