November 12, 2019 at 9:40 PM
Immigrants living in the European Union (EU) are sending growing amounts of money to their countries of origin, with Asia and North Africa being the most benefited regions.
According to the latest figures published by the statistical office of the EU (Eurostat), in 2018 flows of money sent by residents of the EU to non-EU countries, referred to as personal transfers, amounted to €35.6 billion. This amount is a significant growth compared to 32.6 billion in 2017.
Meanwhile, inflows to the EU totaled 10.9 billion in 2018, unchanged compared with 2017. This resulted in a negative balance for the EU (-24.6 billion euros) with the rest of the world. "The majority of personal transfers consist of flows of money sent by migrants to their country of origin", Eurostat remarked.
The figures issued by Eurostat present annual data on personal transfers collected within the framework of Balance of Payments statistics. Of course, the figures vary greatly from one country to another, with deficits or surpluses, as the case may be.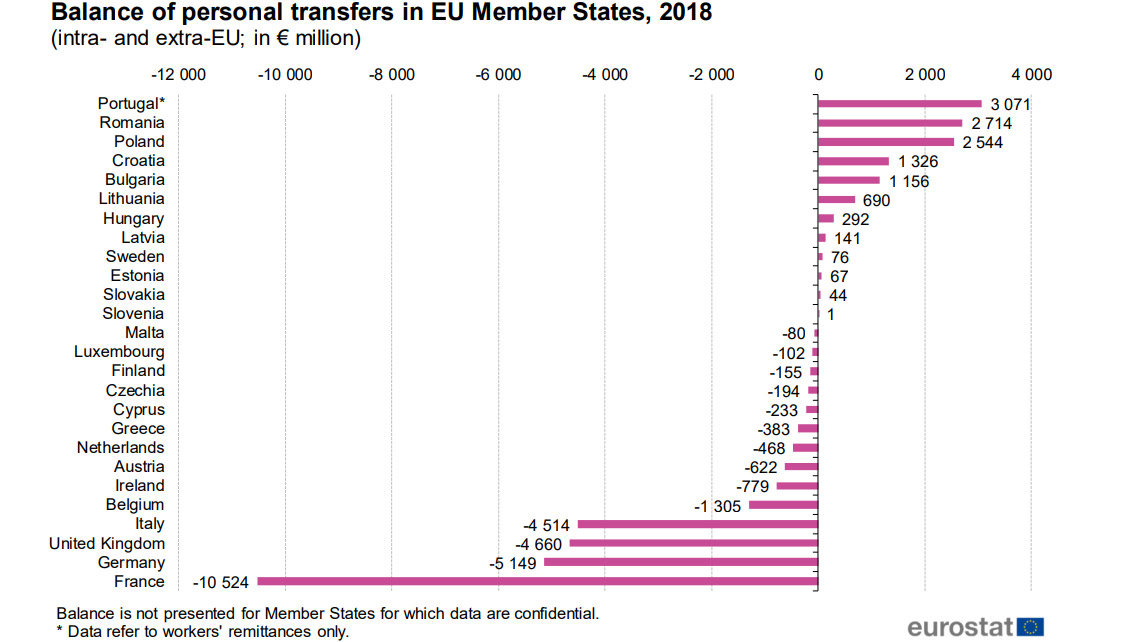 Finland's deficit
Finland is an example of a country with a deficit in personal transfers with the rest of the world. According to the specific data published for Finland, in 2018, the extra-EU outflows (money sent abroad from Finland) amounted to 70 million euros, while the inflows (personals transfer to Finland) accounted for 23 million. The result is a deficit of 47 million euros with the countries outside the EU.
If we add to the sum the countries within the EU, the result is 231 million outflow and 76 million inflow, with a deficit of 155 million euros.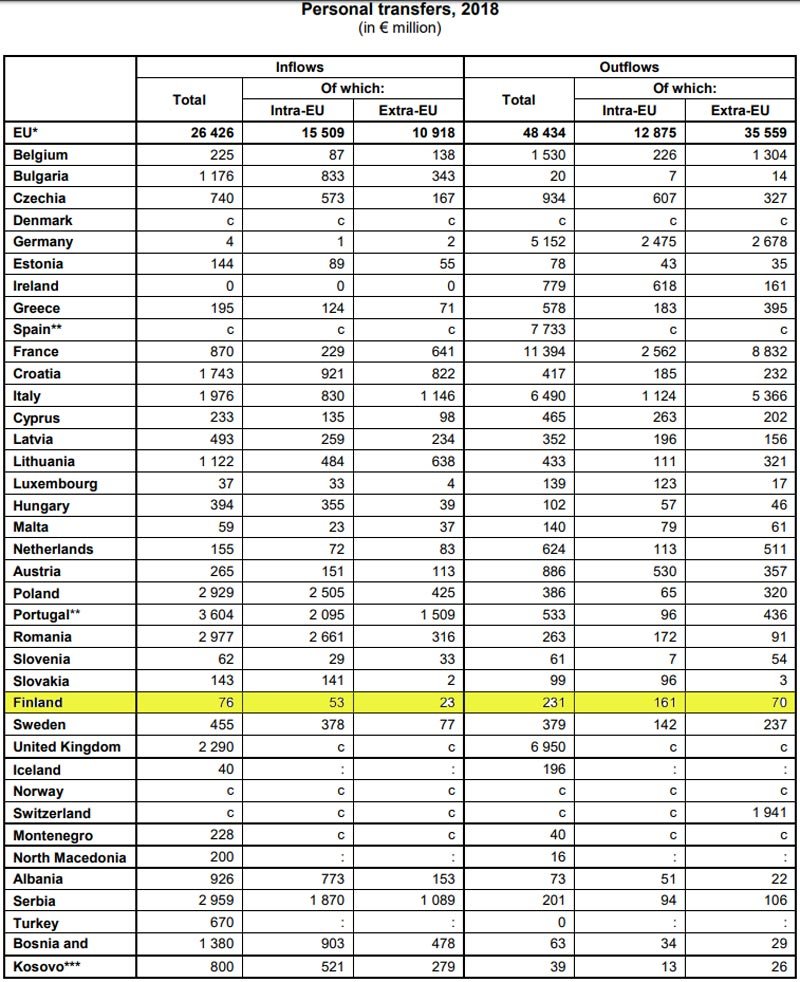 Source: Eurostat.
Largest deficit in France
However, deficits are much larger in other countries. Among member states for which data are published, the outflows of personal transfers in 2018 were highest from France (11.4 billion euros), followed by Spain (7.7 billion), the United Kingdom (7 billion), Italy (6.5 billion) and Germany (5.2 billion).
In contrast, the highest inflows were recorded in Portugal (3.6 billion), ahead of Romania (3 billion), Poland (2.9 billion), the United Kingdom (2.3 billion) and Italy (2 billion).
As a result, the largest surpluses in personal transfers were registered in 2018 in Portugal (3.1 billion), Romania (2.7 billion) and Poland (2.5 billion), while France (-10.5 billion) recorded by far the largest deficit, followed by Germany (-5.1 billion), the United Kingdom (-4.7 billion) and Italy (-4.5 billion).
Extra-EU personal transfers were mostly directed to Asia (21% of total Extra-EU outflows, followed by North Africa (18%), non-EU European countries (16%), Central and South Africa (14%) and South America (13%).