September 2, 2019 at 10:40 PM
Foreigners who are residing in Finland on a permanent basis have the possibility to apply for an identity card.
It is not a mandatory procedure, it is not even essential, since passports can be used for all identification purposes. But it can be useful to have one for those who do not wish to carry their passports with them all the time. Especially since January 2019, when driving licenses are no longer considered as a valid identity proof for all procedures.
ID cards are practical because they are small and easy to handle documents, they fit inside a wallet. Using them allow to keep passports at home, safe from accidental losses. However, it is very important to bear that foreigner's identity cards are not valid as travel documents.
Who can apply
The Municipality of Residence Act states that the Police can issue ID cards to foreign citizens who reside in Finland permanently, whose details have been entered in the Population Information System and who have a valid residence permit (non EU citizens) or whose right of residence has been registered (EU citizens) and whose identity can be reliably verified.
In practice, this means that any foreigner who is duly identified and lives legally and permanently in Finland has the possibility of requesting one of these documents
The Finnish Police remarks in its website that, in order to get a foreigner's identity card, the applicant's identity must be reliably verified. For that purpose, he must present a valid document as a proof of identity. If the applicant cannot present a valid document to prove his identity, then he must present a valid residence permit card or residence card.
In such a case, the authority receiving the application is allowed to take the applicant's fingerprints and compare them with those recorded in the technical part of the residence permit card or residence permit, in order to verify the applicant's identity. "Fingerprint data taken for the purpose of comparison can only be used for the time required for completing the comparison task, after which they will be immediately destroyed", the police says.
How to submit an application
Applications for a regular identity card can be submitted via the Police's electronic services or in person at the police licence services point of your choice.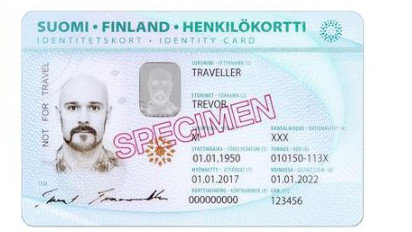 As a general rule, the Police says that it is easier and cheaper to submit the application online and recommends to use the Police electronic services. But this is not always possible for foreigners precisely due to the lack of strong means of identification (such as online banking codes). The fee for an ID card processed online is 54 euros, while 58 euros will be charged at the police office.
In case you can use the electronic service, for online applications you will need:
A photograph taken at a photography studio licensed to send it straight to the Police. Please note that the picture has to be delivered directly from the photographer to the police by electronic means. You can search for your nearest licenced photographer from a list that you will find by clicking HERE
Fill in the online application. In order to do it, you can enter the system by clicking HERE
Attach the photograph retrieval code you received from the photographer to your application and pay the application fee also online HERE
Please note that the information entered in your identity card application must correspond to the data recorded in the Population Information System.
The police warns that normally only the electronic application is required. However, in some cases the applicant must visit a police services point in order to be identified prior to processing the application. When you fill in your application, the system will inform you whether you need to visit the police licence services point. If you have to do it, you can book in advance an appointment with the police by clicking HERE
Applications submitted at the police office
Entire applications can be also submitted at the police services point. In these cases, you can also use the digital photograph submitted by the licensed photographer.
Book an appointment at a police service point. You can do it HERE
In any case, applicants will need:
One recent photograph (no more than six months old).
A reliable proof of identity (passport or an EU citizen's identity card witch doubles as a travel document).
In the case of applicants under the age of 18 years, a guardian's consent.
If the applicant cannot present a valid document to prove his or her identity, then s/he must present a valid residence permit card or residence card.
You will be informed once your ID card is ready.
The citizenship code on foreigner's identity cards is always XXX.