December 2, 2018 at 3:03 PM
People from countries outside the European Union who intend to stay in Finland for a period longer than three months need a residence permit issued by the Finnish government.
Those who come from EU member states, Norway, Iceland and Liechtenstein do not need a residence permit, but still they must apply for the right of residence from the Finnish Immigration Service if they plan to stay more than three months in the country.
The Finnish Immigration law entitles anyone who has a job, a study place or family ties in Finland to apply for a residence permit. The basic pre-requisite is that the applicant must submit the request for a residence permit before travelling to Finland. This can be done electronically or on paper at the closest Finnish diplomatic mission (Embassy or Consulate).
Work and entrepreneurship
If you want to move to Finland for work reasons you must keep in mind that before a residence permit can be granted you need to find a job in Finland.
If you are planning to come and set up a business you will need an entrepreneur's residence permit. To get it you will have to demonstrate that your operations are profitable and that your livelihood is ensured by your earnings.
Studying
Students must have a study place granted in Finland by any approved educational institute: universities, universities of applied sciences and vocational colleges.
The study place must meet at least one of these conditions: lead to a vocation or degree, be part of an international exchange programme with another educational institution or allow to complete supplementary training or specialising training connected to the applicant´s degree.
Family ties
If you want a residence permit to live with a member of your family that already resides in Finland you must note that not all family members can be granted a residence permit.
Normally, this is granted to the spouse, common-law spouse or minor children of a person residing in Finland and to the parents of a minor child residing in Finland.
The person that already resides in the country will be often required to prove that has enough resources to guarantee your economic support. Still, residence permits issued based on family ties normally allow also to work.
Also valid for the Schengen area
Finnish residence permits and Finnish travel visas are also valid at the Schengen area and allow holders also to travel within the 26 countries that have abolished the internal border controls.
The Finnish Ministry of Foreign affairs (Ulkoministeriö) remarks that according to the EU visa rules, one of the requirements for granting a Schengen visa is that the person must leave the area before the visa expires.
For that reason, the Ministry highlights at its web page that "a visa cannot be granted to a person who has come to Finland in order to obtain a residence permit or to wait for the decision on a pending residence permit-related matter". And this is also applicable to family members of Finnish citizens, husbands and spouses included.
Obtaining a Finnish residence permit
It is very important to point that only you can initiate the application for your residence permit. Nobody else can do it on your name. Applications can be submitted electronically at the Enter Finland service. This is the digital service for the customers of the Finnish Immigration Service and will lead you through the process.
1- The first step is to go to the ENTER FINLAND service and choose the option 'First Residence Permit'.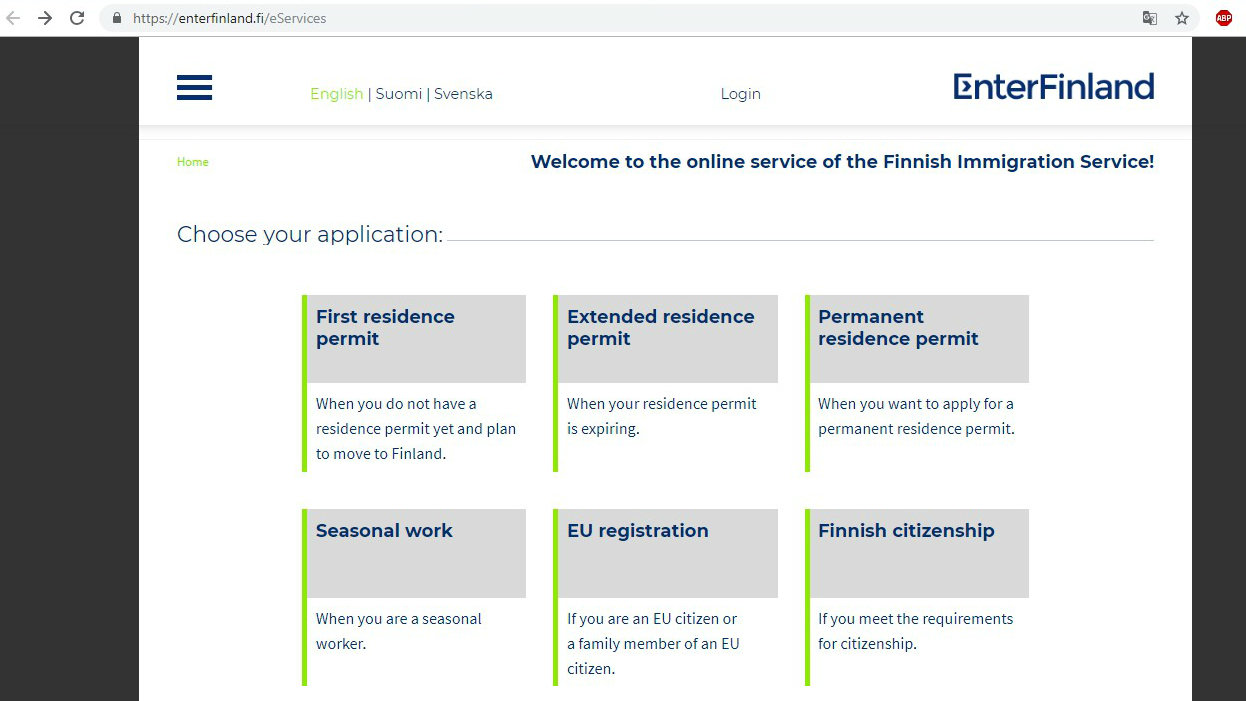 2- Read carefully the conditions to submit your application, then scroll down and choose the suitable option, depending on if you intend to work, study or meet with your family.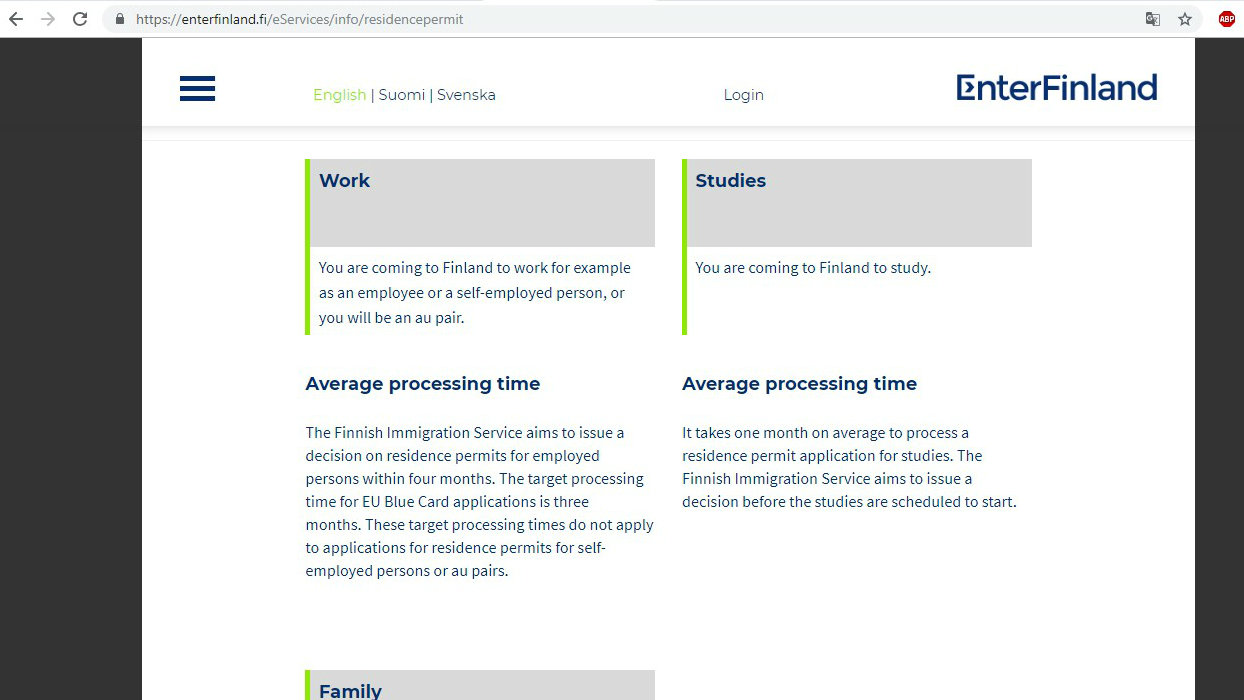 3- Then click on 'Apply now' for the specific type of permit that best suits your personal circumstances.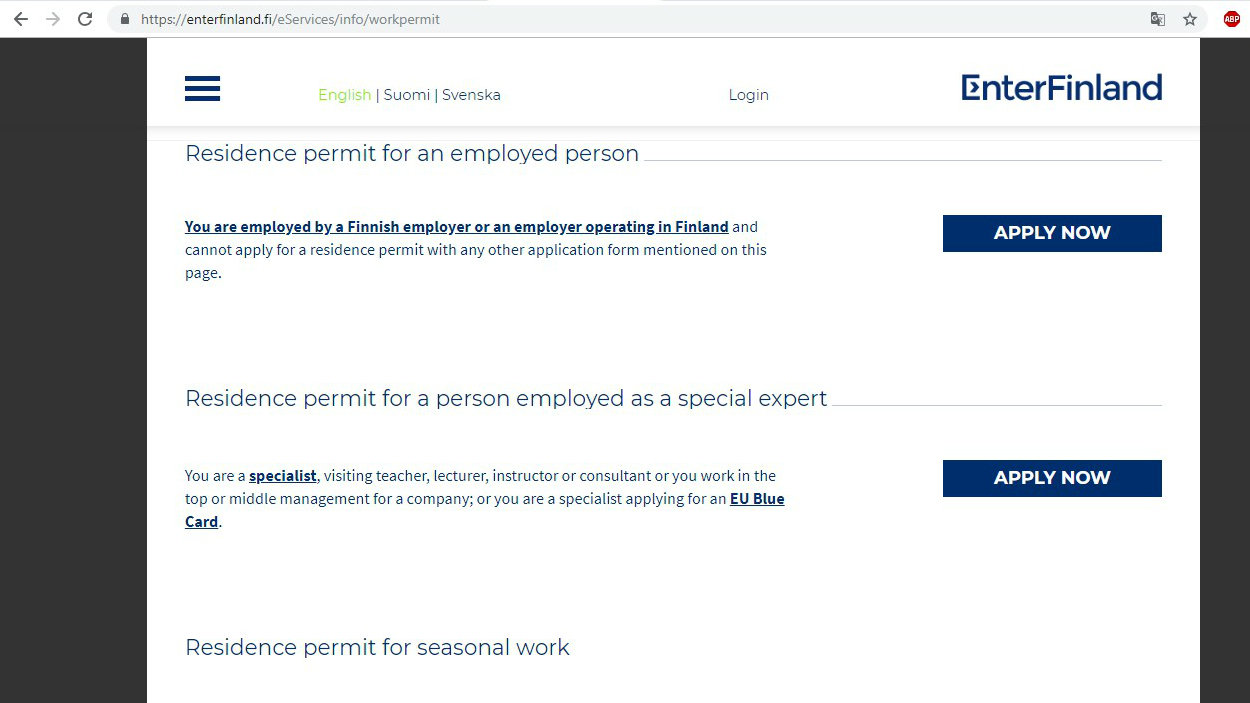 4- Read all the instructions, then scroll down and click on 'Create a user account'. To have your own account at this service will enable you to create your residence permit application. If you have previously created an account, you can choose 'Log in' to create new applications or check the status of your pending applications.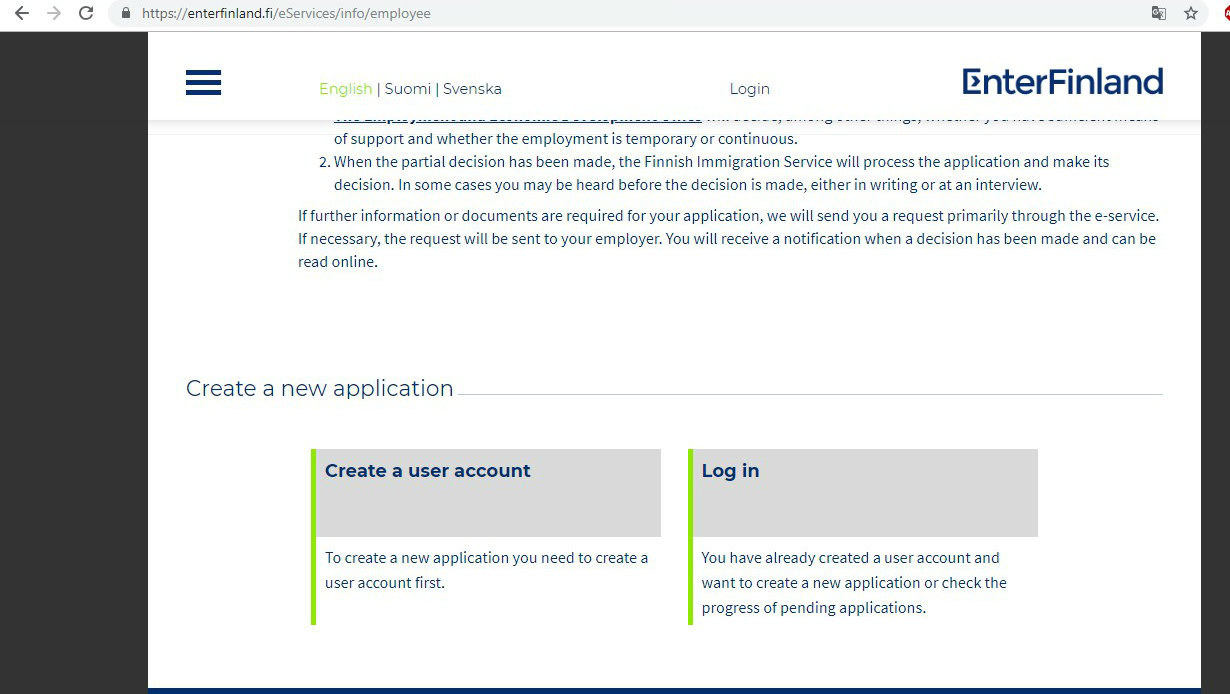 5- Follow the system's instructions to create your account. This can be done by two means: with your Finnish banking credentials or simply by providing your name, email address, date of birth, mobile phone number and a valid password.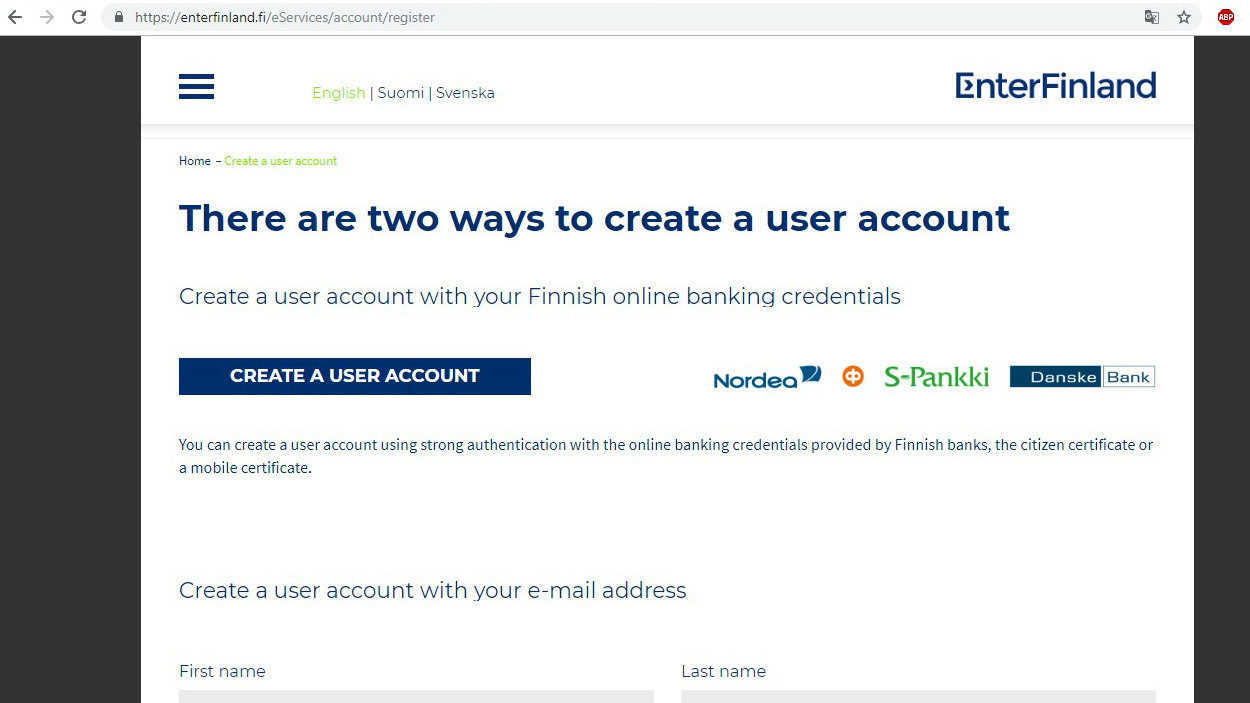 6- After completing your application you have to visit the closest Finnish diplomatic mission (Embassy or Consulate) to prove your identity and present original copies of the application appendices. You must pay the corresponding processing fee collected for the residence permit application.
The nearest Finnish foreign mission may be located in a different country to where you are. So, take into account that you may need to submit a visa application for the country in question. Visits to diplomatic missions must be done within three months after submitting the online application. Until then, the applications will not be processed. Usually it is needed to book an appointment in advance. The Ministry of Foreign Affairs recommends to do it by e-mail.
The Finnish Immigration Service recommends applicants to check their Enter Finland accounts regularly in order to get all the information regarding their applications and follow the process online. You may be asked for further information and you may be invited for an interview.
Processing an application takes time, so be patient. You will be notified once a decision has been made. If the decision is positive, the residence permit card will be delivered to the mission. A negative decision means that you do not have sufficient grounds for a residence permit.
Applications at Finnish diplomatic missions
Those who are not able to apply online can visit the closest Finnish diplomatic mission.
When visiting the Embassy or Consulate, applicants must bring with them a paper form properly filled and the rest of the documents needed to process the application. You can get and print out the application form from the Finnish Immigration Service website by following the instructions detailed HERE
Application fees
Processing a residence permit is always subjected to the payment of a fee that must be paid when submitting the application. Fees vary depending on the application basis or if this is done online or at a service point (for instance, in the case of residence permits for work reasons they can vary from 200€ to 520€).
Processing fees can be paid either online in the e-service Enter Finland or at a service point. Remember that fees will not be refunded in any case, even if you cancel your application or receive a negative decision.