August 7, 2020 at 11:09 AM
The year 2020 will be remembered as the year the coronavirus pandemic broke out. For many it will also be a year of crisis, as Europe's main economies have entered recession and tens of thousands of jobs have been lost.
Still, in Finland the prices of some basic goods like rental housing prices have continued to rise, especially in the main cities.
According to the latest data published by Statistics Finland, the rents of non-subsidised rental dwellings increased most year-on-year (1.7%) in the Greater Helsinki area and in Turku in the second quarter of 2020.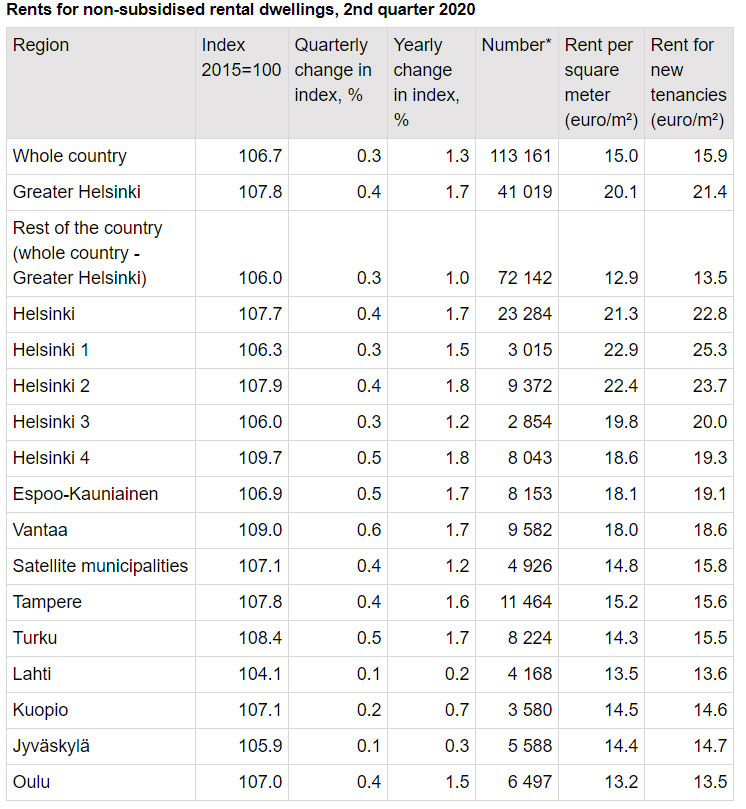 Source: Rents o dwellings, Statistics Finland.
Large cities
Among the large cities, the average rent level of non-subsidised rental dwellings is highest in Helsinki (21.3 euros per m²) and lowest in Kouvola (10.9 euros per m²).
In new tenancies signed in the last six months, the average price of a rented square metre of a one-room flat was 27.8 euros per m² in Helsinki; 19.3 euro per m² in Tampere and 18.8 euros per m² in Turku.
Compared to 2015, data show that the rents of non-subsidised rental dwellings have increased most in Helsinki, Vantaa, Turku and Tampere. In contrast, the rise in rents was lowest in Seinäjoki, Kotka, Hämeenlinna and Lahti.
In Greater Helsinki, rents have risen by 8% and in the rest of the country by 6% from 2015.