September 1, 2021 at 2:23 PM
House prices soared in almost all of Finland over the past twelve months, despite the economic effects of the Covid-19 pandemic and restrictions. The price increase is much higher in the Helsinki metropolitan area and in large cities.
According to Statistics Finland, prices of existing dwellings in housing companies rose in July by 3.1% year-on-year in the whole country. Prices increased in all the biggest towns and in all major regions except for Western Finland compared with the previous year.
The increase was larger (5%) in Greater Helsinki, where prices of dwellings in blocks of flats rose by 4.6% and in terraced houses by 5.9% from one year ago.
Among large towns, prices rose most in Helsinki (4.9%) and Espoo (6.2%) compared with the corresponding period of last year. In Vantaa, prices increased 3.9% year-on-year.
Since 2015, prices have gone up by around 13% in Espoo and by nearly 26% in Helsinki.
Prices by region
Examined by major region, prices of old dwellings rose in July on the annual level most in Southern Finland.
Compared with 2015, prices have risen by 14% per cent in Southern However, prices have fallen by almost 20% in Eastern Finland.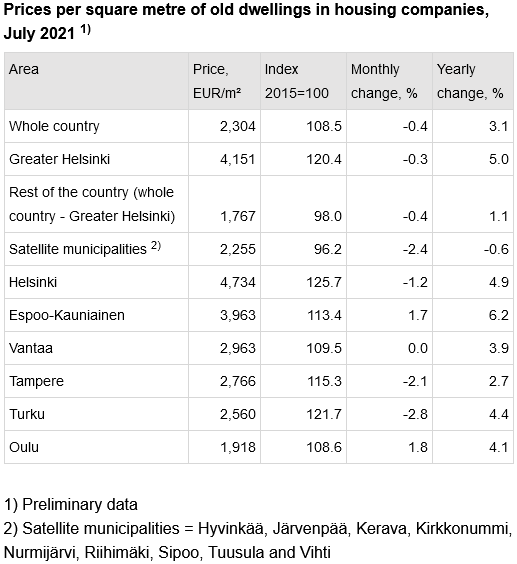 Source: Statistics Finland.
Compared to June, prices fell across the country by 0.4% on average.