June 18, 2020 at 11:49 AM
Residents of the Greater Helsinki area who have purchased a home owe their banks, on average, 45% more money than the country average.
According to Statistics Finland's latest data on indebtedness, in 2019 the average size of a housing loan per household-dwelling unit was €102,240 for the whole Finland (1.2% more than in 2018). But in the Helsinki metropolitan area, the average size of housing loans was €148,500, which is 45% more than the country average.
Housing loans were lowest in Northern and Eastern Finland, €81,700, on average.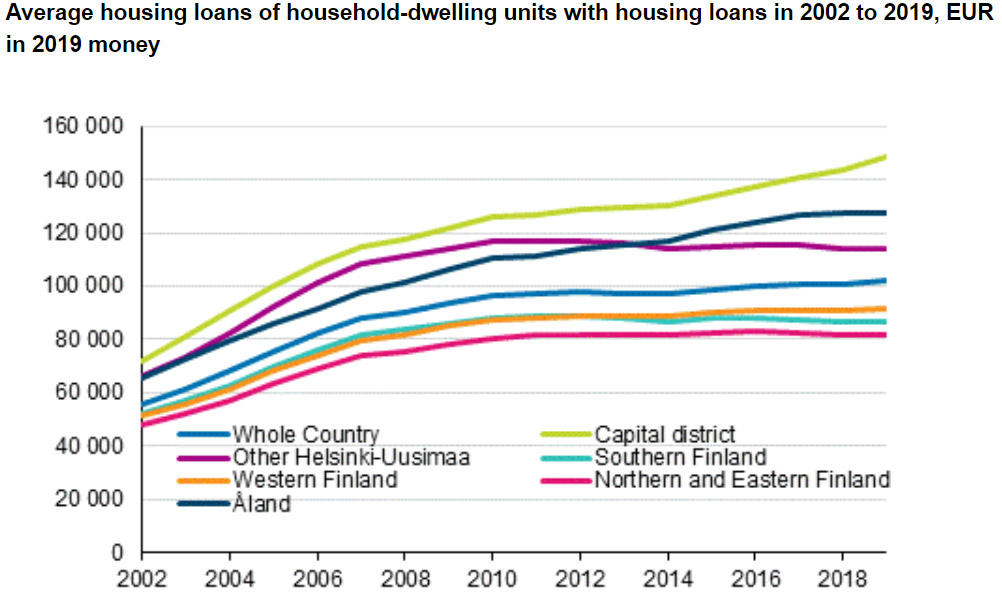 Source: Statistics Finland.
The capital region is also where housing loans grew most, by 3.4% from the year before. This means that the amount of loans in Finland is growing at a rate three times higher in the Helsinki area. Elsewhere in Finland changes in average housing loans were small, Statistics Finland says.
In 2019, there were 1.45 million indebted family units in Finland (53% or slightly over one-half). The total debt amounted to €126.9 billion, which in real terms is 2% more than in the previous year. Of those, 89.6 billion were housing loans, 8.9 billion loans taken out for business purposes and 28.4 billion were other debts (including consumption, larger purchases and study loans).
Families with children
A third of all family housing units, or 875,900, had housing loans, roughly the same number as in 2018.
Housing loans were common for families with children. 71% of households with two adults and children had housing loans. Their average amount was €138,700 in 2019.
The average housing loan of single-supporter families was €92,140. Childless household-dwelling units of two adults had, on average, €89,300 in housing loans and one-person household-dwelling units €69,520.
In 2019, household-dwelling units paid, on average, €960 in interests on their housing loans.