January 31, 2019 at 3:03 PM
According to Statistics Finland's revised preliminary data, the volume of Finland's GDP grew by 2.7 per cent in 2017 from the year before. Previously the growth was estimated to be 2.8 per cent.
The national accounts concerning 2016 were also revised. Gross domestic product grew by 2.8 per cent instead of the previously estimated 2.5 per cent. In the January calculation round, the final figures for 2015 were also released, where GDP was revised from 0.1 to 0.5 per cent as a result of balancing the supply and demand of the national economy.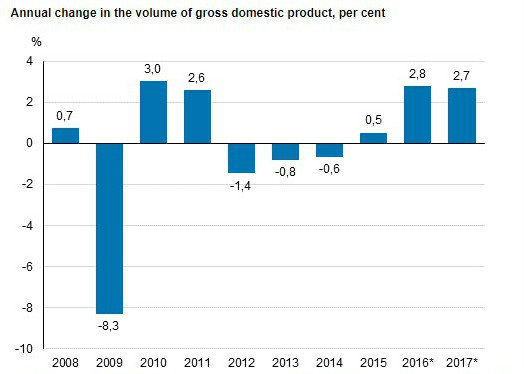 Source: National accounts, Statistics Finland
In 2017, the output of the national economy increased particularly due to the volume of investments growing by 4.3 per cent and that of exports by 7.7 per cent. Private investments grew by 4.8 per cent and government investments by 2.4 per cent. The volume of imports went up by 3.8 per cent.
The volume of households' consumption expenditure grew by 1.5 per cent. The volume of public consumption expenditure diminished by 0.4 per cent.
Imports and exports
In the January calculation round, the biggest revisions were made in transactions between Finland and the rest of the world and in general government data. New data were obtained on imports and exports of services and goods, as well as on international property income and expenditure.
The current account became revised into a deficit of -0.7 billion euros, while in the summer round, the surplus was estimated to be 1.4 billion euros. The current account fell as enterprise data concerning the rest of the world were revised. The biggest revision concerned property income and expenditure in the rest of the world.
Household's disposable income
Households' disposable real income grew by 1.2 per cent in 2017. Households' adjusted real income describing their economic well-being increased by 0.9 per cent. Besides net income, it also includes welfare services, such as educational, health and social services that general government and organisations produce for households.
In 2017, households' savings ratio was -0.9 per cent and households' indebtedness ratio rose to 128.9 per cent in 2017. The share of compensation of employees in national income was 57.2 per cent in 2017 and the share of property and entrepreneurial income was 27.1 per cent.
General government's net lending, or financial position, showed a deficit of -1.8 billion euros, while the deficit was -3.7 billion euros in 2016. The deficit was 0.8 per cent relative to gross domestic product in 2017.
Central Government's deficit
The financial position of central government (net borrowing) showed a deficit of -4.1 billion euros, while in the previous year it was -5.7 billion euros. The deficit or net borrowing of local government (municipalities and joint municipal authorities, etc.) was -0.4 billion euros.
The surplus of employment pension schemes' net lending diminished to 2.0 billion feuros rom the previous year. The surplus does not include holding gains in assets. Other social security funds showed a surplus of 0.7 billion euros.
Preliminary data for the year 2018 will be released in two parts. Preliminary data concerning gross domestic product, income formation of industries and the supply and demand of the national economy will be released on 28 February 2019 as part of the quarterly accounts of the fourth quarter of 2018. Preliminary data concerning sector accounts will be released on 15 March 2019. Then the preliminary data published on 28 February will also be revised.