The government's communication chief, Päivi Anttikoski, resigned from her post on Tuesday.
The resignation was made public by herself on Tuesday evening in her Facebook account and made headlines in the Finnish national press.
Anttikoski's resignation is preceded by a strong controversy over her role as head of government communication during the so-called 'aamiaisgate' ('breakfastgate' in English), the scandal over the more than 14,000 euros in food benefits received by Prime Minister Sanna Marin.
The government's communication strategy has been heavily criticized in Finland during the 'breakfastgate', both in the media and on social networks.
In particular, the Government Communications Department was repeatedly accused of putting more interest in protecting the image of Prime Minister Marin than in reporting the facts to the public.
'Nothing to do with it'
However, Anttikoski said in her announcement that her departure from the government office has nothing to do with the Prime Minister's food benefit case, which is now being investigated by the police.
"Many people may think so, but my departure has nothing to do with it."
"My decision was made earlier, before the whole thing even started," she wrote.
According to her, she is going to work in the private sector.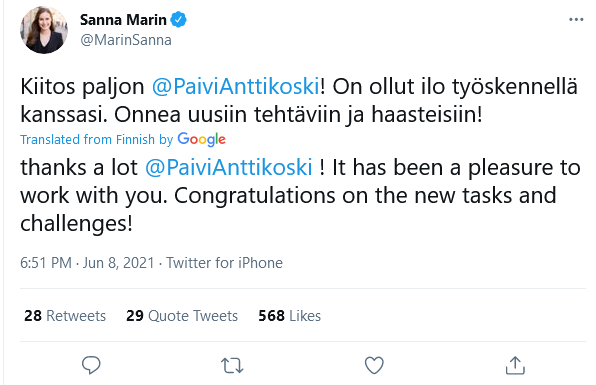 Prime Minister Sanna Marin thanked Anttikoski on Twitter for her work and congratulated her on her new tasks and challenges.