The so-called '#aamiaisgate' (or 'breakfastgate', in English), the scandal arising from the payments of the meals of Prime Minister Sanna Marin's family with taxpayers money, is more serious than it seemed and implies more than the breakfast payments.
As reported on Sunday by the Finnish press, including the National Broadcasting Service (Yle), the Prime Minister's Office has admitted that the "average" amount spent on food purchases with public money almost triples the 300 euros recognized when the scandal broke out last week.
Local press reported that Marin's special assistant Elisa Gebhard acknowledged that, according to a preliminary estimation, the total cost of the Prime Minister's 'food benefit' is now estimated at 850 euros per month and also includes payments for "cold meals" at the Prime Minister's official residence of Kesäranta.
What is the reason for this sudden increase?
According to Marin's team, the rise is explained because until now, the newspaper Iltalehti - which unveiled the scandal last week - had only asked about the cost of breakfasts and that was 300 euros per month. But once the press has started asking about other possible payments for other meals, it has emerged that the actual amount destined to fill Marin's fridge and table was almost triple.
The payments would have been made since January 2020, shortly after Marin's arrival at the head of the government. Prime Minister Marin replace the resigned Antti Rinne in December 2019.
The suspicious payments would have been made since January 2020, shortly after Marín's arrival at the head of the government. Marin replaced Antti Rinne as Prime Minister in December 2019, after Rinne resigned over a scandal linked to the postal workers' strike.
Police investigation
Following the press reports and after receiving a request for a probe, the Finnish police announced on Friday a preliminary investigation into the case.
According to the Helsinki police department, the aim is to find out whether there are reasons to suspect that someone has committed a crime in connection with the payments. The police also said that the Act on Ministers' Salaries and Allowances, in principle, does not seem to contemplate food payments, at least in its literal wording.
The police also stressed that the subject of the investigation is not the Prime Minister herself, but the procedures of other officials of the Prime Minister's Office.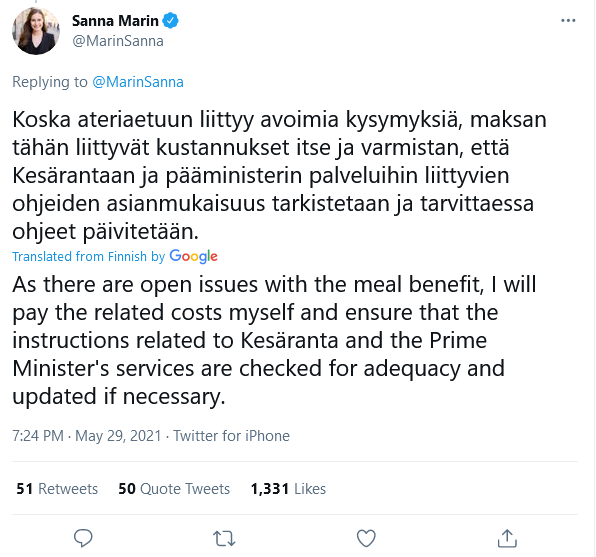 On Saturday, Marin said in Twitter that she is willing to pay all the costs related to these meals. However, the Prime Minister's office staff emphasized that there are some issues to clarify before that, for example the implications and possible tax penalties that may arise from the case.
So far, Marin has not declared any food benefit to the tax administration, considering that it was part of the housing benefit linked to her position.