Foreign students contribute more and more to the celebrated success of the Finnish education system. Especially at the highest levels: last year they completed almost 30% of the doctoral degrees achieved and 13% of the higher university degrees.
These figures were published by the Finnish Statistical Office (Tilastokeskus) as a part of its general statistical study on the education sector. The data provided show that in 2018 in Finland "nearly every tenth degree was attained by foreign students, the figure being good 13% for higher university degrees and 29% for doctorate degrees".
The favorite fields
In its review of the situation, Statistics Finland remarks that foreign students completed most university degrees in relative terms in the fields of information and communication technologies, around 21% of all university degrees in this field.
With regards to doctorate degrees, the share of those completed by foreigners was highest in the fields of natural science, mathematics and statistics, information and communication technologies and agriculture, forestry and veterinary, where foreigners completed around 42% of the doctorate degrees in each field.
More new foreign students
In 2018, a total of good 26,200 new students started studies in Finland, which is almost 6% more than one year before. The number of new foreign students grew by over one-fifth from the previous year. One more year, most of them came to study higher university degrees, as the following graph shows.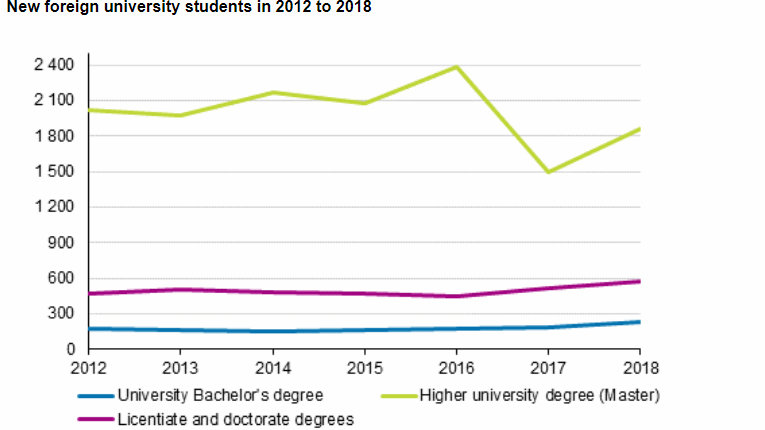 Source: Statistics Finland.
The evolution of last year's figures shows that interest in Finland of university students is on track to recover after the downturn suffered in 2017 due to the introduction of tuition fees for non-European students.
According to Statistics Finland, in 2018 there were 153,400 students studying at Finnish universities and the share of foreigners among all new students was already slightly over 10%.
More than 30,800 degrees completed
In 2018 around 30,800 university degrees were completed in Finland (this figure includes degrees achieved by both Finnish nationals and foreigners). Of them, 13,600 were lower university degrees, slightly under 15,300 higher university degrees, 75 licentiate degrees and around 1,800 doctorate degrees.
Most students graduated in the field of business, administration and law, where nearly 18% of all degrees were completed. Good 15% of the degrees were achieved in arts and humanities and close on 14% in both social sciences and engineering, manufacturing and construction.
The highest percentages of completed doctoral degrees were in the fields of health and welfare (around 23%) and engineering, manufacturing and construction (around 20% of all completed degrees).
More women than men
The proportion of women of all students attending education leading to a degree was 54%, but the variation was large between fields. For example in the field of education, good four out of five students were women, while in the field of information and communication technologies (ICT), the proportion of women was slightly over 20% and around 25% in engineering, manufacturing and construction.
In contrast, both sexes represented around half of the students in business, administration and law and natural sciences, mathematics and statistics.
The number of students in 2018 was highest at the University of Helsinki (almost 31,300). The second place in this ranking was for Aalto University with nearly 17,500, and the University of Turku was third with good 16,100.